When you're about to hit that "buy" button, do you find yourself automatically scrolling down to read reviews left by those who went before you?
If so, you're not alone.
In fact, 64% of consumers will actively seek out reviews before they commit to handing over their money.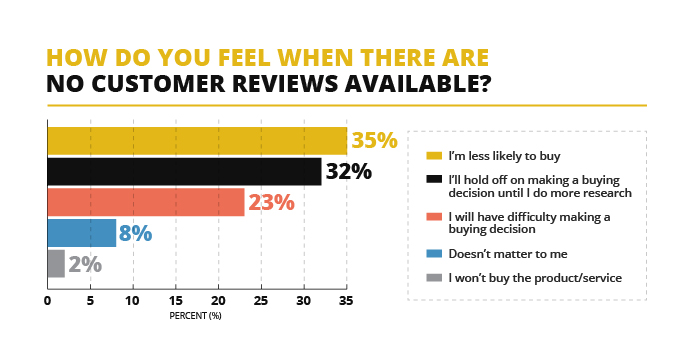 Source: v12data
Reviews, and user-generated content (UGC) in general, are making marketing more authentic. Content created by customers has magic powers that marketers can't recreate themselves – more time, anyone? How about increased engagement?
To find out just how powerful UGC is today, we surveyed 500 organizations about the role it plays in their businesses, the challenges it helps them overcome, and how they integrate it into their wider marketing efforts.
Our respondents came from far and wide. 42% were TINT users, while 58% were non-TINT users in marketing and branding roles.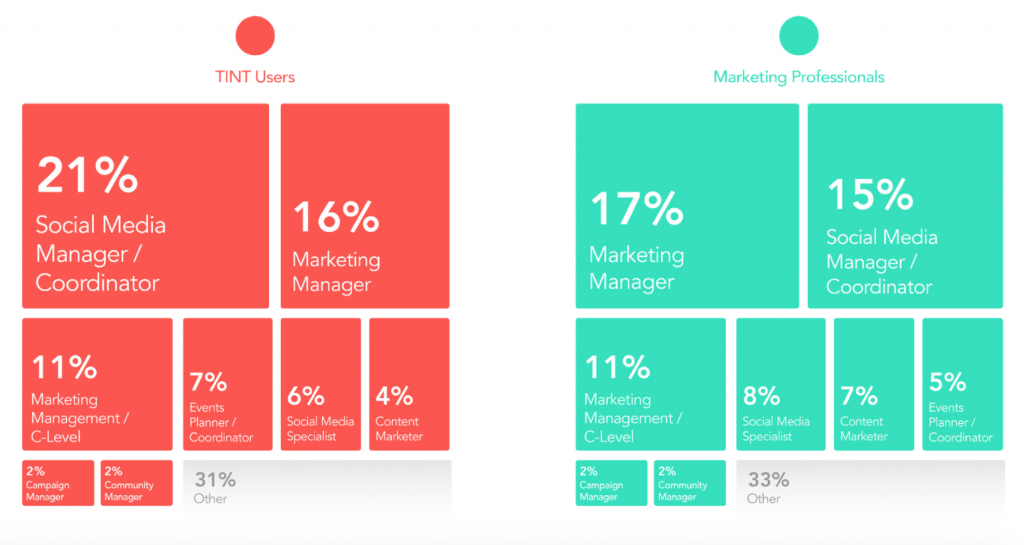 We asked a lot, and we learned a lot along the way. Here's what we uncovered:
1. UGC Makes Marketing Human
75% of respondents claimed that UGC makes content more authentic.
Now that consumers are craving deeper connections with brands, the need for authentic content is greater than ever.
The future might look like a robot-infested sci-fi dystopia, but what consumers actually want is a human-to-human relationship with businesses, and UGC can help.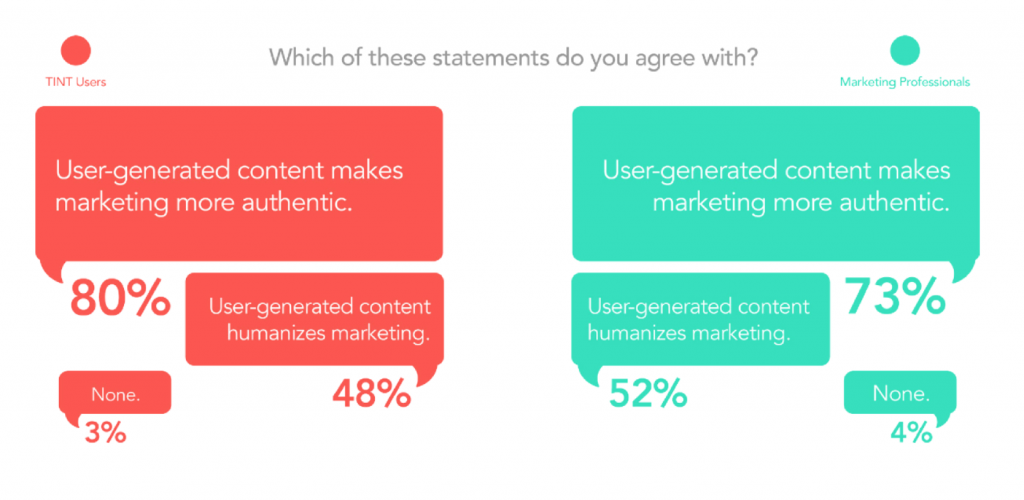 48% of marketing professionals believe that content created by customers can help humanize their marketing, believing that it's an effective way to interact and connect with their people.
But why is authentic content so important for success?
Because it has been proven to produce increased engagement and conversions. Word-of-mouth recommendations the most influential, as 84 percent of global respondents across 58 countries to the Nielsen online survey said this source was the most trustworthy. This suggests that the authentic approach to content is the best-practice approach.
2. UGC is a Powerful Tool for Boosting Social Media Metrics
While authentic content is a top priority for marketers, they're still tied to metrics like social media stats. Numbers show growth, so it makes sense that numeric goals are still an important part of a successful marketing strategy.
34% of TINT users surveyed and 45% of marketing professionals agreed that UGC helps increase those all-important social media stats.
This shows that UGC can have a powerful impact on all parts of the marketing funnel, right from the awareness stage through to the sale.
Many marketers struggle to measure the success of their content, but because of the social nature of UGC and its effect on engagement (more on that in a bit), it's easier to measure results in a traditional, numbers-focused way.
3. UGC Supports Wider Marketing Campaigns
With limited time and resources, marketing teams are often stuck when it comes to creating enough content for an entire marketing campaign – particularly if they're running more than one at any given time.
We learned from the survey that UGC provides practical value for marketers, in that it gives them higher-quality content at scale.
With an increase in content ready and waiting to be distributed, campaigns are more supported, showing that UGC can have an important impact beyond just the top of the funnel.
4. Increasing Engagement is the Main Goal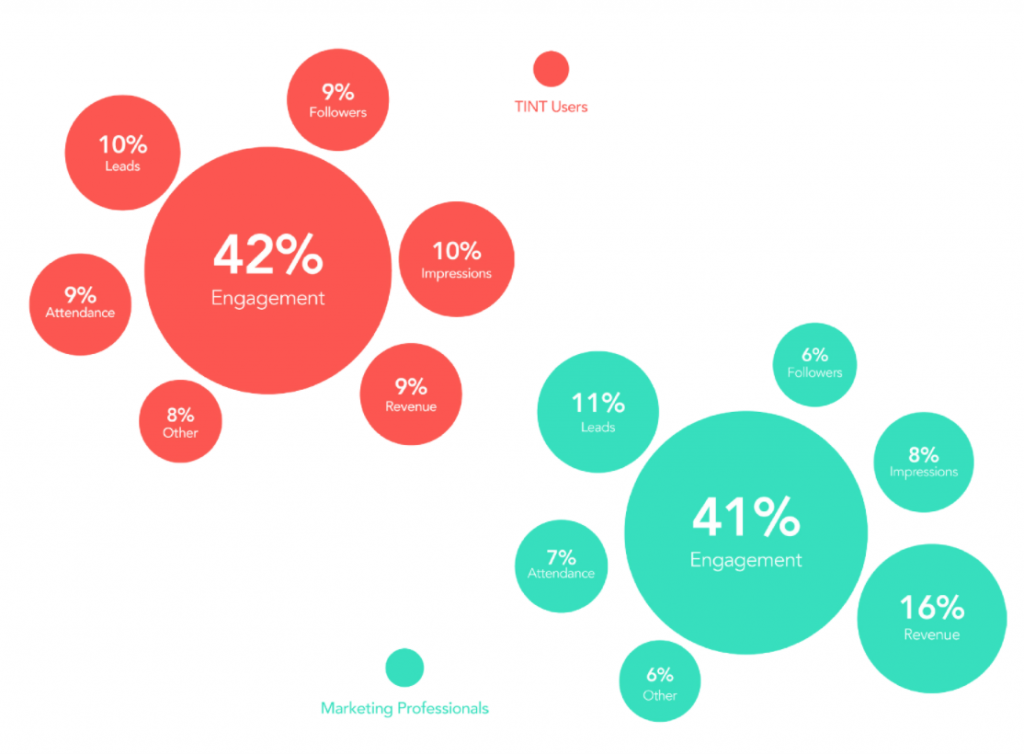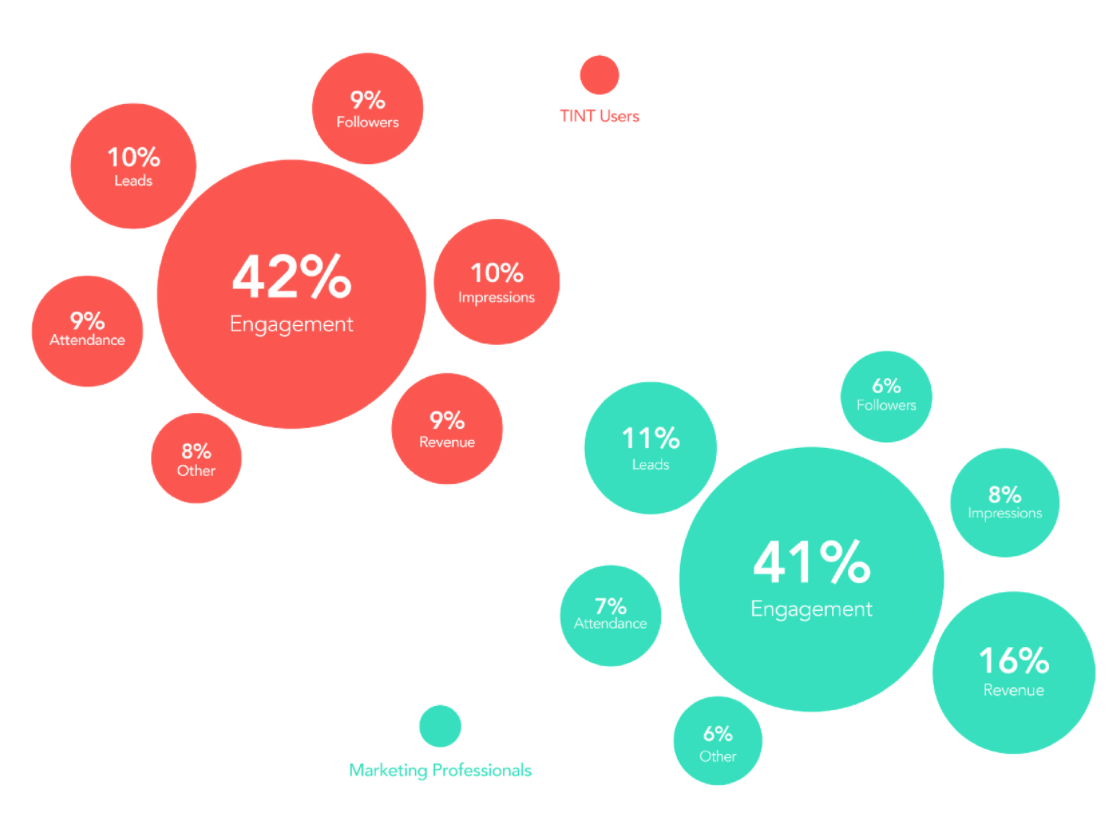 41% of marketing professionals ranked content engagement as their top KPI.
This was placed above numeric stats like follower counts, impressions, and even the total number of leads.  
For TINT users in particular, creating enough quality content was also high on the list, with 18% naming it as their top KPI. Further down the line, 10% were focused on generating leads, while 9% wanted to boost brand value.
And, for the non-TINT users, there was a similar result. 16% put creating content as their main KPI, while 15% wanted to focus on awareness.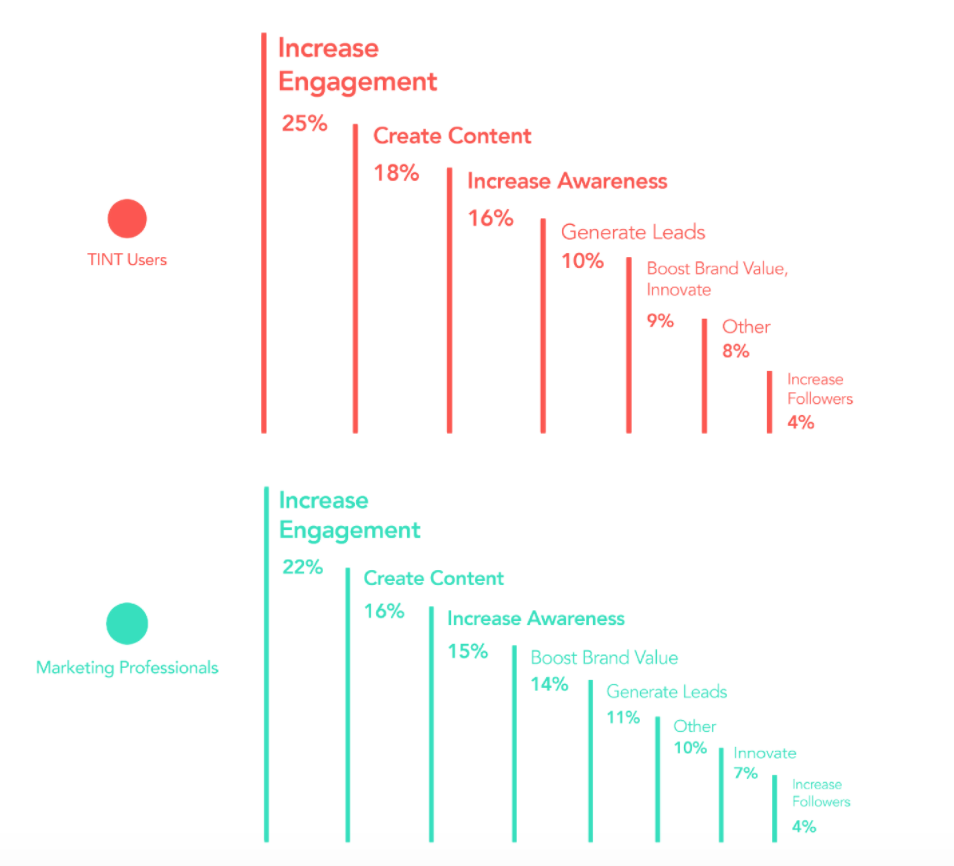 This shows that UGC is an effective top of the funnel and inbound tool that's a key driver in boosting engagement.
By displaying UGC at first and second customer touch points, marketers are finding it easier to generate the impressions and engagement they need to hit their monthly or quarterly goals.
5. Traditional Advertising is Not Effective Anymore
Now that consumers are more in control of their internet habits and are considerably more skeptical about advertising than they used to be, traditional methods of promotion are no longer cutting it.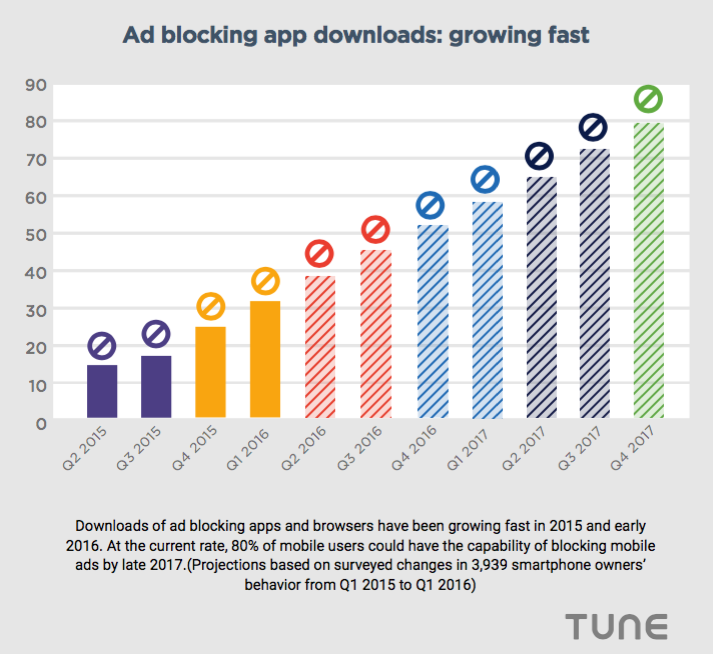 The number of adblockers downloaded each year is on the rise. Source.
Adblockers are on the rise, and consumers are getting savvier by the day when it comes to separating ads from non-ads. Because of this, we've found that marketers are turning towards SEO, social, and content as methods for attracting, converting, and retaining customers.
The main reason for this pivot is that, when done right, content marketing is perceived as authentic by prospects and customers.
6. Time is the Biggest Setback
36% of TINT users surveyed admitted their biggest concern when it came to content marketing was not having enough time.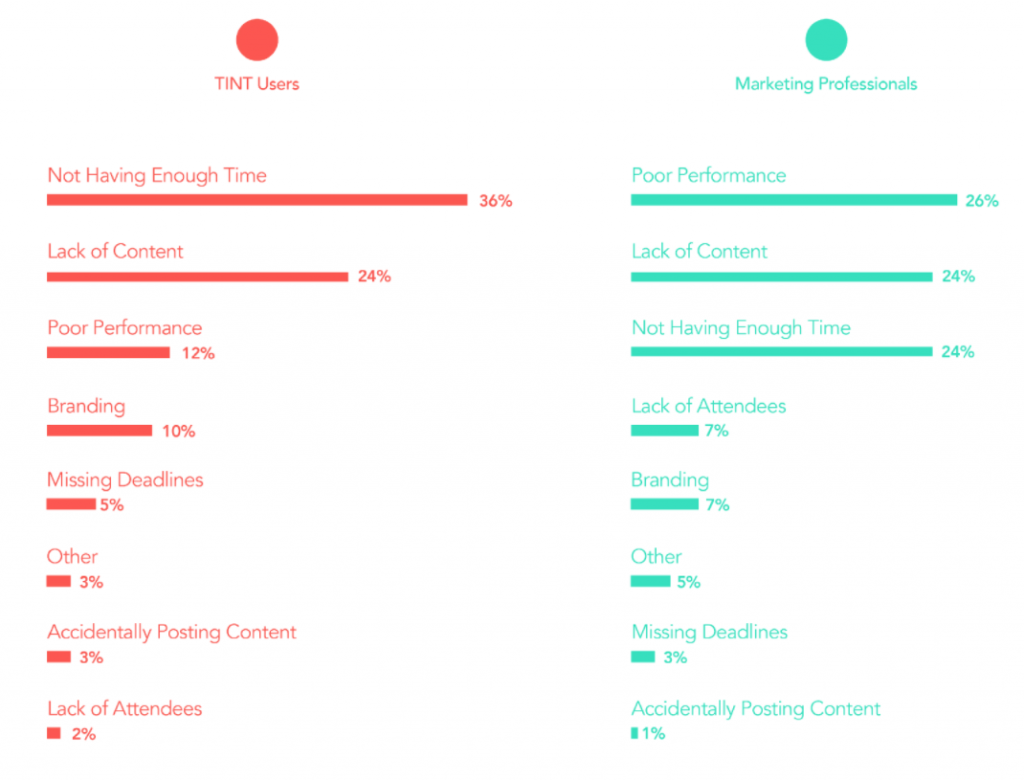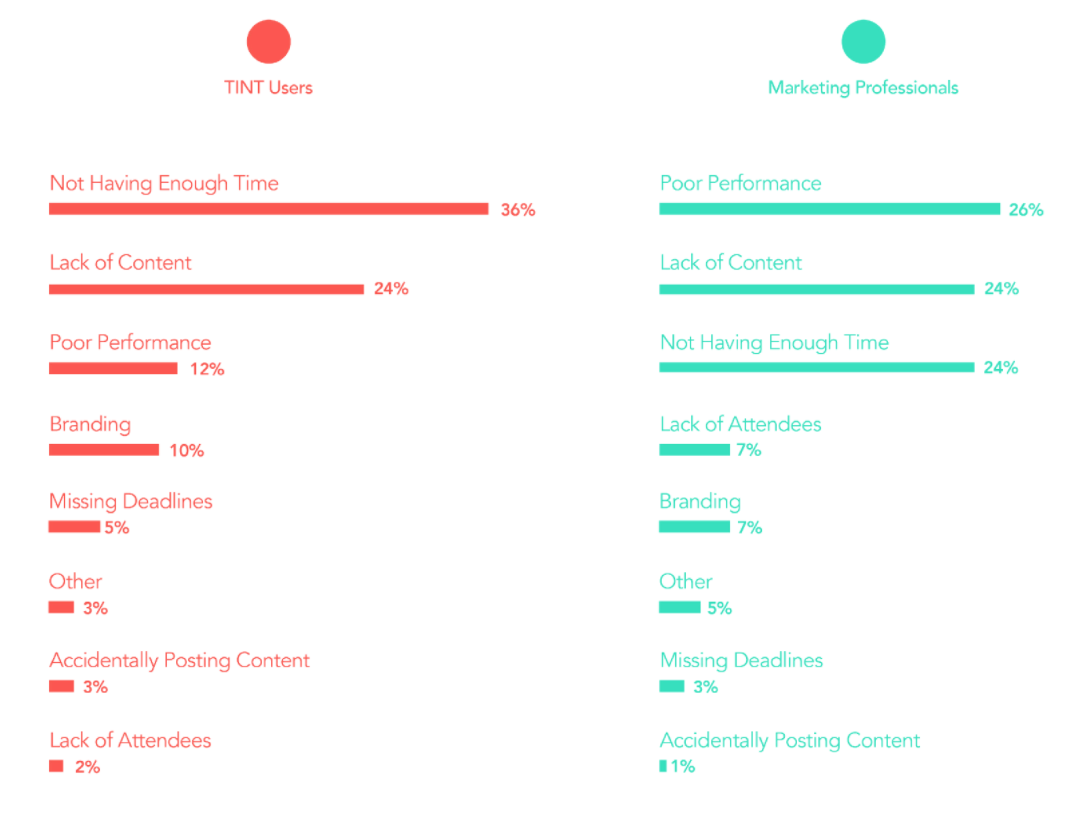 With the incredibly quick cadence of the internet, this just shows how important modern forms of marketing are in order to stay on top of the game.
Consumers are inundated with online content multiple times every single day. The biggest challenge for marketers is cutting through the noise with a high quantity of content that is also high-quality.
For non-TINT users, 26% claimed poor performance was the biggest thing holding them back when it came to implementing a successful content strategy, while lack of content was the reason 24% of marketers weren't seeing the success they wanted.
7. UGC is an Invaluable Tool in Any Marketing Arsenal
The study showed that, as marketers continue to deal with a lack of time and the increased need to generate more engagement, UGC will become more and more of an invaluable tool for marketers.
For 43% of TINT users and 42% of non-TINT users, it's already a vital component of their marketing strategy.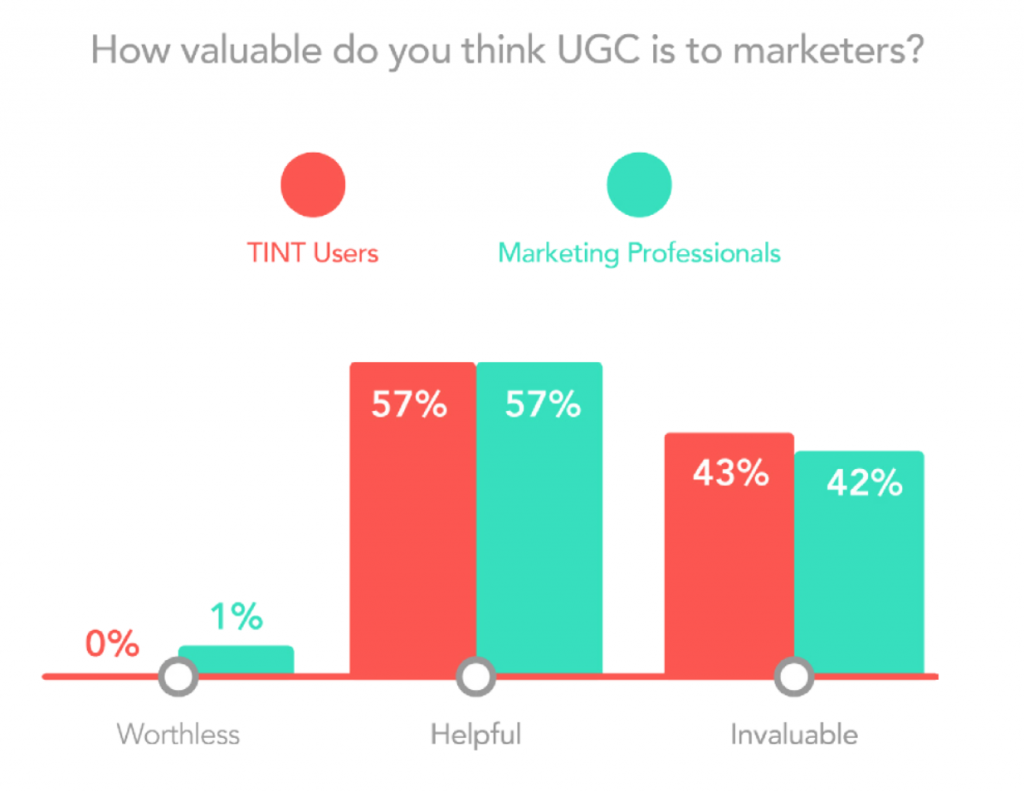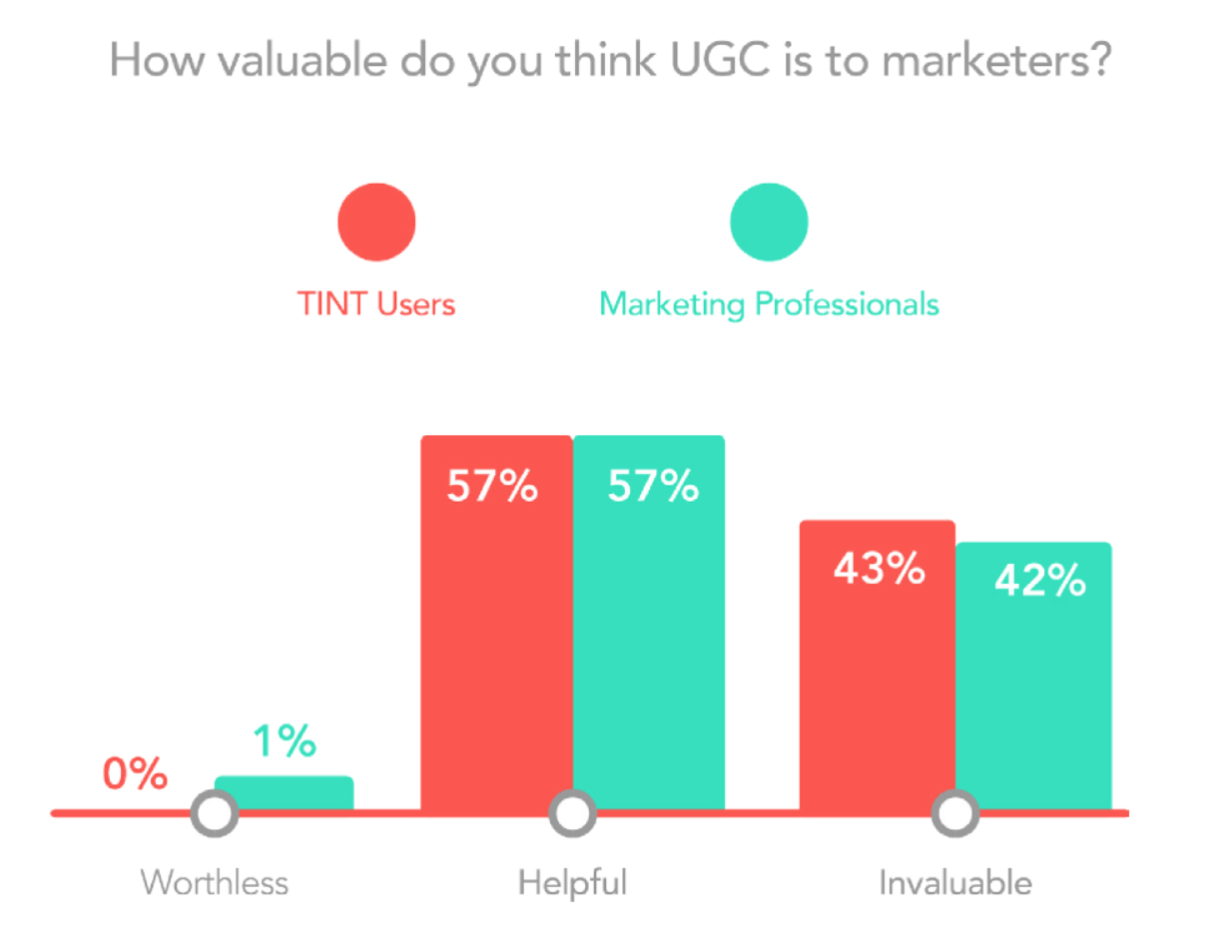 As we move to an age that requires more authenticity and human connections, UGC might just be the golden ticket marketers have been searching for since the slow downfall of traditional methods.
8. UGC Can Be Leveraged Right Across the Marketing Funnel
The responses we received about how UGC is being used or can be used across campaigns varied greatly, ranging from demand gen emails, to presentations and marketing support.
Today, more than ever, consumers are constantly connected via mobile, which means brands need a multi-channel presence if they want to reach the right people in the right places. We found that the omni-channel presence for UGC is huge, with marketers choosing to add it to a diverse mix of marketing strategies.
And, when you consider that engagement is the number one aim for many marketers, this makes sense. According to research carried out by ComScore, brand engagement rises by 28% when consumers are exposed to a mixture of professional marketing content and UGC.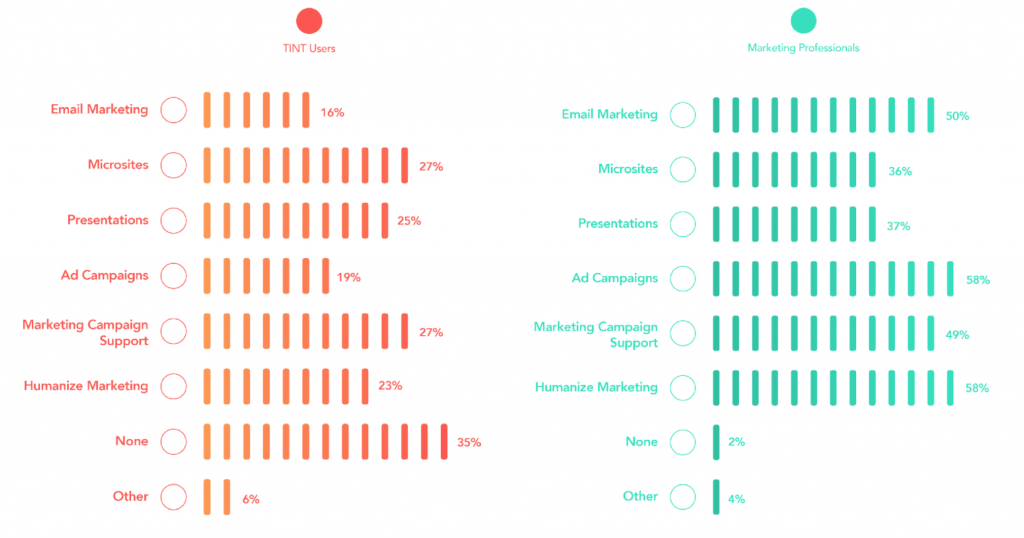 Digging into the specifics, our report showed that 27% of TINT users implemented UGC on designated microsites, 25% included it in presentations, and a further 27% made use of it in marketing campaign support.
For the general marketing professionals, 50% utilized UGC in email marketing, 58% implemented it in ad campaigns, and 49% used it to support their overall marketing campaigns.
9. UGC is an Effective Inbound Tool
The crux of the report boils down to this: UGC saves marketers time, and it can be applied to numerous different stages of the marketing funnel.
It's not just a way to get bulk content quickly. Instead, it's a tool that creates a library of authentic content that can be implemented at various consumer touch points to create a deeper, more connective marketing campaign.
What we learned from the report is that UGC shows great promise as a method for supporting mid and bottom of the funnel efforts.
In a time where traditional ads are floundering and marketers are having to find new ways to reach their audiences and build relationships with them, UGC is bridging the gap.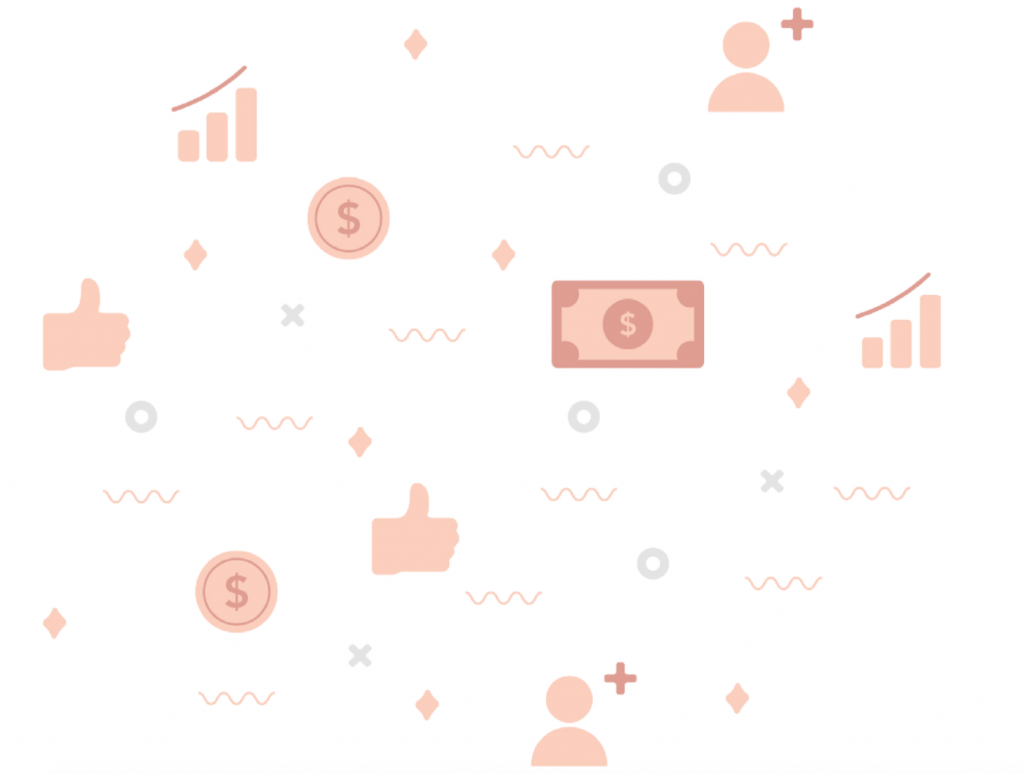 What Will the future bring for User Generated Content?
So, after the report, what can we expect to see in the world of UGC?
After learning that it's one of the best marketing tools to produce and deliver authentic content, and that it generates an increase in engagement – the top KPI for many marketers – it's safe to say that UGC will be sticking around in the new year.
As well as increased use of UGC on various different platforms, we can expect to see marketers implementing it in a range of creative ways, from email marketing campaigns, to presentations and more.
According to the report, it's the perfect solution to the lack of time and resources marketers have to produce successful, powerful campaigns.