How Do I Track Hashtag Analytics?
To track hashtag analytics, you'll need to use a variety of tools that organize and evaluate hashtag data from multiple sources. Hashtag analytics can tell you what hashtags are relevant to your brand or event, which version of a hashtag is the most widely used, and help you aggregate content.
While social media gives the illusion of complete transparency and thrives (and relies on) user engagement and interaction, it's important for brands to realize that we can still generate and shape social conversations as well as user created content. One of the best ways to encourage user interaction and content– both of which greatly benefit your brand– is through hashtags.
Whether you're jumping in on a trending topic or creating your own specific, branded hashtag for your business, there's a lot to know about the hashtags you're going to be using. Fortunately, there are a few incredibly valuable hashtag tools that can help you choose, create, and track your hashtags for the maximized success, and we've made a list of 14 of our favorites.
1. Hashtagify
Hashtagify claims  to be the most advanced search engine for Twitter. It searches for and locates trending hashtags, finding the ones that will be most relevant to your audience. It can, for example, tell you the top ten hashtags related to your brand or to a current event. Hashtagify also has a Hashtags Lab, which is updated daily to keep up with the current trends, and can be monitored by your social media team to see if there's a trending topic that you can jump in on.
Hashtagify has just released a new Instagram tracking feature, and they'll not only tell track the conversations happening with the hashtag, but also how many likes and other engagement those conversations are having (showing you the true potential).
This is a great research tool, and can give you a lot of insight into what other users are talking about and how to jump in on the conversation.
2. HootSuite
HootSuite is another big name, multi-purpose tool that can help you monitor and schedule your content across multiple social media platforms. When we're looking specifically at hashtag tools, however, focusing in on their Twitter reports and their social streams are the way to go.
Within HootSuite, you can create customizable reports to evaluate activity across your social media channels. Their Twitter Profile Overview report allows you to add a keyword module that you can use to track a specific hashtag and it's mentions for a specific time frame.
You can also create streams within Hootsuite to monitor mentions that include specific keywords or hashtags. This is beyond helpful when tracking specific campaigns that you're running, including hashtag contest entries. You can create multiple streams and compare how different hashtags are performing and keep up with the conversations they're generating.
One of my favorite uses for hashtags is to track entries for social media contests. While some contest software like Wishpond gives you the option of choosing a random winner, most businesses don't use contest software but still want the winner to be random. The quick and simple solution to this is the Instagram Hashtag Contest Winner Picker created by TINT.
All you have to do is enter in your email and your contest hashtag. This tool will find all the entries and pull them up for you to review. You can manually choose a winner, or manually "qualify" entries and let the contest winner picker choose the winner for you. When you're doing this, make sure to take a good look at the results the tool pulls up and see if you can convert it into UGC that you can use on your social accounts and your site.
4. TINT
Hashtags are most often used on social media to incite conversation around a brand and encourage user generated content (or at least engagement). Once you have the UGC, though, then what? That's where TINT comes in.
TINT is a social aggregation tool that will find the all-powerful user generated content for you (aided by brand hashtags) and allow you to moderate the content and display it anywhere on your site that you'd like. You can use these carefully-crafted displays to encourage more social engagement, drive conversions, and build a community. You can even use TINT displays to run social campaigns on your site, like the #ShareYourEars campaign through the Make a Wish Foundation (pictured below). By placing your social campagins on your website, you're increasing visibility as well as the impact that it's having.
If you want to quickly and easily find influencers and popular content for a given hashtag, check out Instagram Analytics by TINT. The tool doesn't have the bells and whistles of a fully fledged analytics suite, but it does provide the basics in an easy to digest report: posts vs time, most influential contributors, most liked content, and most commented content.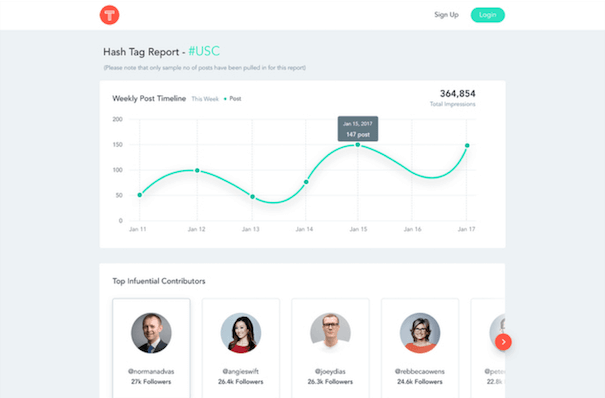 6. Talkwalker
Social listening tool Talkwalker has incredible subscription plans and some really amazing free tools, too. With Talkwalker, you can track brand hashtags and mentions across social media. They take it one step further, however, and you can also track keywords off social media too; you can create a daily or weekly alerts, for example, that let you know about mentions of your keyword in the news, on blogs, or online. They even offer radio, TV, and print monitoring.
While it doesn't happen often, sometimes hashtags grow pick enough that they jump off social media and get enough attention to make it on other sites. If this is the case, you want to know about it so you can measure the marketing potential and impact that it's having.
Sometimes, even once we've done all the research, it's still exhausting trying to decide which hashtag we should actually use. While this sounds finicky, the specific phrasing we use does matter; even the order of the words, or whether they're plural or singular, can affect the cadence of how it sounds in our heads. RiteTag is here to help us decide.
This tool has all the features you need to choose a hashtag that you want to use, including trend alerts that keep you up to date on new hot topics in your designed topic(s) of interest, and tag sets that allow you to view related hashtags that can be used to bolster your tweet even further.
My favorite feature that they offer is their instant feedback on hashtags. All you have to do is enter in two hashtags (which can even be nearly identical) and you'll be provided with the strength of the hashtag via color indicators. If you're stuck between a few hashtags, this tool can save you a lot of time trying to choose.
8. TweetChat
If you want to carefully follow a hashtag (whether it's your own or just relevant in your industry) and be able to jump in on the conversaion, TweetChat might be right for you. When you search for a hashtag, it will immediately pull up a Twitter stream of posts with the hashtag attached. You can engage with any of the users, starting a dialgoue like on Twitter, or share your own post. It's a lot like clicking on a hashtag on Twitter iself.
These streams will consistently update (but not so quickly it becomes overwhelming, which is a huge plus) and works in real-time. You can highlight certain users, which is a huge advantage if you want to keep an eye on someone, and you can block others. You can also be in multiple "rooms" at once, allowing you to monitor multiple streams with just a few clicks, which is really convenient.
Did you know that Twitter has an on-platform advanced search option, which is completely free to use? If you go to their main search page, you'll see the "advanced search" option hyperlinked underneath.
If you want to find specific conversations and certain hashtags, this is the tool to use.
You can choose to show only exact matches, results that feature "all of these words," certain hashtags, results that exclude certain words, results that mention certain accounts,  and results from within a certain date range. You can even choose to show posts that are positive, negative, or are asking a question, and you can use any combination of the search criteria above to get as broad or as specific of results as you'd like.
Keyhole is a hashtag tracking tool that works in real-time (which I love). They've got great analytics about both hashtags and brand mentions, and will show you information like the number of posts your hashtag has shown up in, their reach, impressions, and the number of users who shared it.
Keyhole provides a stream of posts that feature the hashtag so you can easily see what users are posting with your hashtag attached, who is sharing it, and whether it's with a positive or negative sentiment- they track this automatically. They'll also give you more relevant information that you can use to increase the success of your hashtag and content, including related hashtags and keywords and the top domain where it's being used. If you sign up for an account with them, they'll save records of historical data so you can track your keyword analysis overtime.
11. Twubs
Twubs is an awesome, easy-to-use tool that allows you to follow specific hashtags and discover new conversations. This tool focuses on allowing you to really take ownership of your branded, custom-made hashtag (made by you, but still). You can, for example, register your hashtag, which provides you with "a record of your claim that can be used in a trademark challege." This won't stop anyone else from using it– and you definitely don't want your users not to use it– but it never hurts to have.
They'll also provide you with a branded hashtag page, which is like a landing page that acts as a live stream of the content involving your hashtag. While I'm not entirely sure this is necessary (since the whole point of hashtags on Twitter and Instagram is that they kind of do the same thing), it's a cool feature none-the-less if you can use it for community building.
Mention is like the big brother of Google Alerts, and tracks mentions of your brands and its hashtags across social media. Mention even allows you to search in over forty different languages so that you won't miss a single mention (especially since it works in real-time). When people have something to say about your brand– via the hashtag– , you'll be able to join the conversation right away.
With their keyword tracking, you can get alerts about specific hashtags, making it easier to track them. Their keyword settings is incredible, letting you track multiple keywords (hashtags, in this case). They also let you choose if there are any required keyword combinations, or any keywords you want to exclude from your results. This pre-moderation tool makes it easy to filter out irrelevant content so you don't have to.
If you're looking only for a tool to keep track of your hashtags and social media management features, Hashtracking is probably the way to go. That being said, this tool has every feature imaginable when it comes to keeping up with your hashtags.
This tool is designed to be hashtag-intensive, and has incredible organization that allows you to keep track of multiple keywords (you can even add names to them, like "Contest Hashtag"). It will search on Twitter and/or Instagram (whichever you choose and sync up to), and will generate beautiful, detailed analytic reports showing you the activity on each of the hashtags that you've entered in.
Hashtracking will also identify big buzzwords that your users are placing alongside the hashtag; this gives you a fast glimpse at how they're using it, and a way to check that the perception is positive.
14. What the Trend
While the best way to get your hashtag to pick up traction is getting users excited about them on social media, What the Trend may offer an occasional jump-start to the process. This site (which has a reddit upvote feel) allows anyone (literally anyone) to share a twitter hashtag or trend and explain why it's important and why it matters.
If you want to launch a certain hashtag into the limelight, users here may be interested enough to get it going on Twitter, especially on potentially huge topics.
Be careful not to go too crazy on this site, however, because most users aren't crazy about repetitive self-promotion. They can award you reputation points, so keep that in mind.
Final Thoughts
Hashtags are a big part of social conversations, especially on Twitter and Instagram. Being able to research, create, and track specific hashtags will make it easier to generate and facilitate the types of conversations that you want to represent your brand. These conversations and user-generated content can then be found and shared by your brand (via the hashtag!) by your brand to continue to increase engagement, customer loyalty, and conversions.
Want to learn more about how to convert hashtags and social engagement into conversions? Shoot us a message to schedule a free strategy session with us!