Consumers are no longer at the mercy of advertisers.
In fact, we know that consumers, especially millennials, are much more likely to trust the word of other consumers than they trust forced and pushed promotional messages from brands.
So how do brands tap into this?
How can you leverage the power of consumer to consumer communication to boost awareness and sales?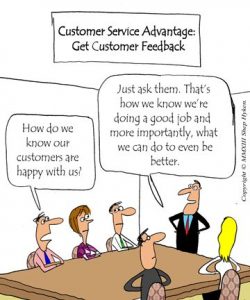 Authentic marketing is a powerful technique at the moment. It involves using the actual social voice of your customers to attract new customers and build long-term loyalty.
It's often referred to as "real-time" marketing, because content isn't strategically thought up for months in advance – instead, it's shared on the spot and repurposed in many different ways.
Now, more than 50% of real-time marketers display content created by customers for marketing messages, while 98% of brands report a positive ROI in revenue from these real-time, authentic marketing efforts.

The Rise of User Generated Content
For the last 50 years, the amount of ads and brand content consumers get exposed to on a daily basis has risen from 500 a day to more than 5,000 a day. Imagine just how much noise is out there.
It's easy to see why these polished messages straight from the marketing departments of brands are no longer catching the attention of consumers.
Instead, 70% of consumers trust reviews and social media content written by other customers above professionally written content.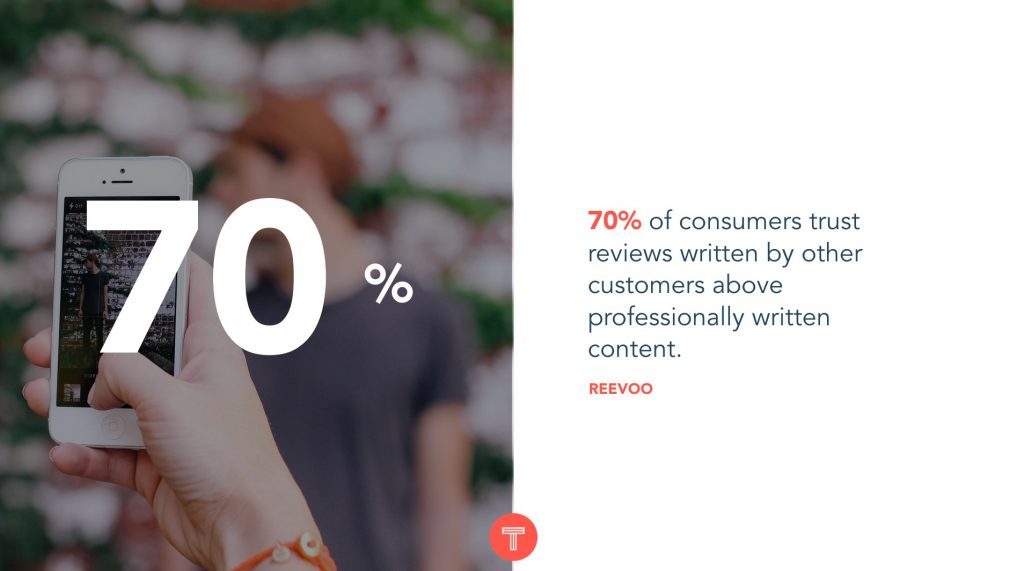 This, combined with the fact that consumers are no longer passive receptacles of marketing mean user generated content and earned media is now more important than ever.
So how can you successfully turn content your customers have made into a strong and successful content marketing campaign?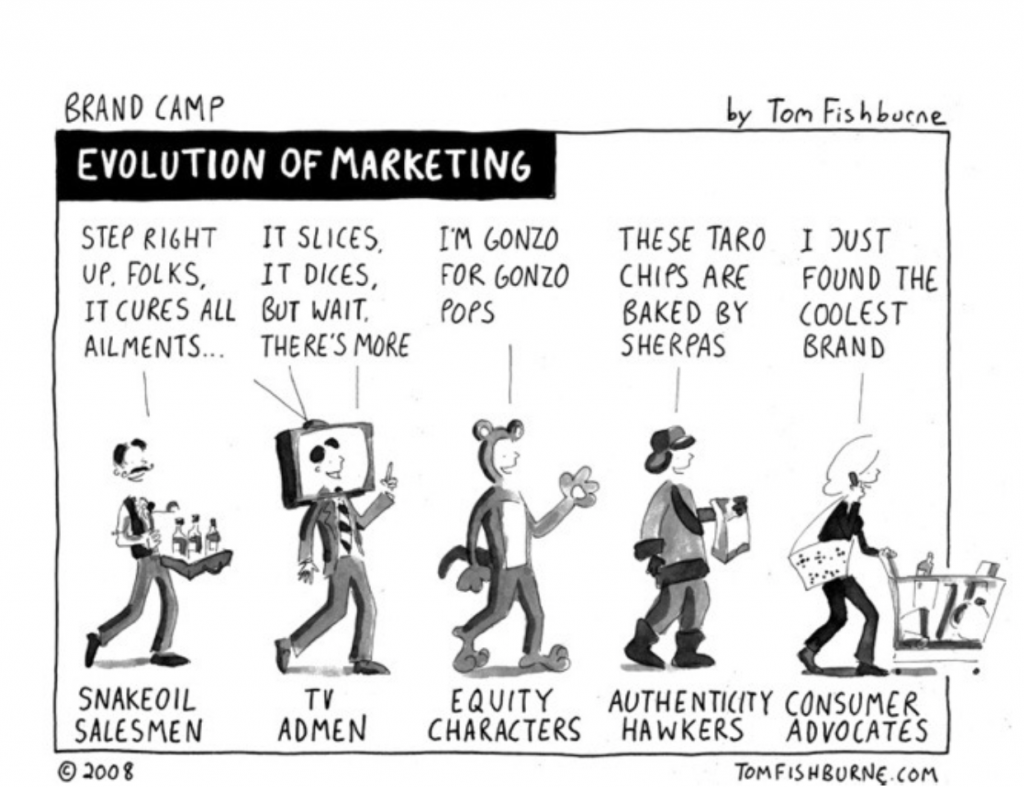 9 Ways to Repurpose Customer Content Throughout the Customer Journey
Before we dig in, let's quickly discuss the customer journey.
This is the process every consumer goes through when they make a purchase. It starts before they even hand over their money and continues after they've made their purchase.
There are generally four steps in the process:
Awareness

Consideration

Purchase

Advocacy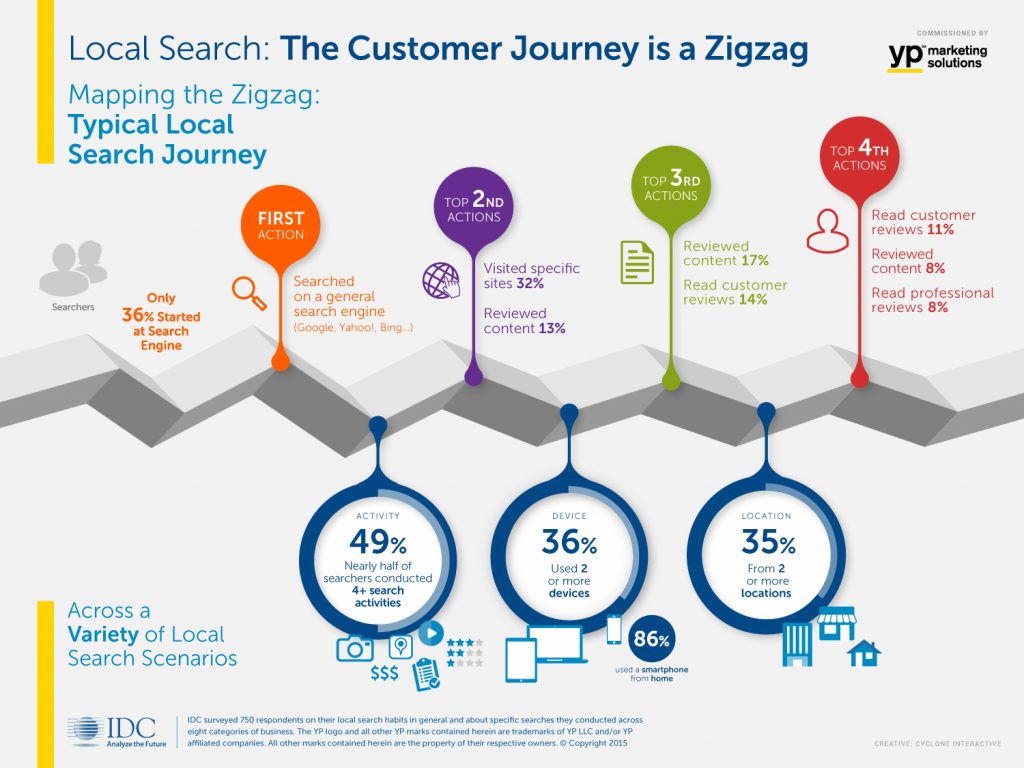 Throughout each of these steps, the consumer takes different actions and needs different information from a brand. This gives you ample opportunity to utilize social media content that previous buyers have created during every part of the process.
1. Customer Loyalty and Changing Customer Behavior
It's one thing to get someone to buy something from you, and another thing entirely to keep them coming back for more.
Creating a loyal brand of customers not only gives you repeat customers, but it also creates a solid bunch of advocates and marketers who can vouch for your brand.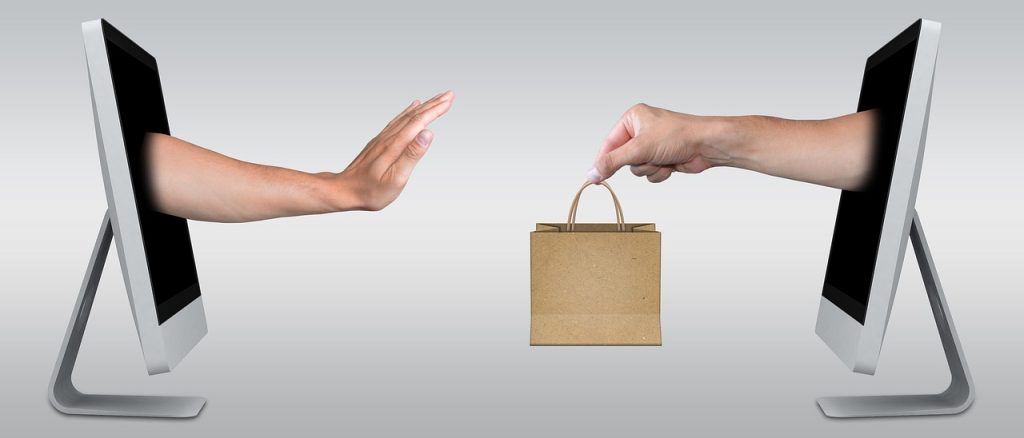 But, with so many brands out there, it can be difficult to grab the attention of consumers in the first place, let alone hook them for life.
For AMRP, the solution was to encourage user generated content.
Since 1992, the Air Miles Reward Program (AMRP) has offered reward points in exchange for purchases at a number of stores, but in 2011, the brand switched things up with their "winter contest".
In exchange for the chance to win reward points, consumers were asked to share their wish list for what they would buy with those extra points.
Almost 8,000 members participated on an AMRP social media site which led to some decent exposure for the brand – but that wasn't the most interesting outcome.
The real question was: does UGC translate into revenue?
The marketers behind the campaign found that members who elaborated on their goals for their wish list, which made them think more about how the AMRP aligned with their values, tended to use the AMRP membership more in the future which, naturally, led to increased revenue.
It wasn't just a quick surge of sales either; the change in activity lasted up to six weeks after the contest, which is considerably longer than traditional forms of advertising.
"Here, you are not trying to persuade people that a brand is valuable," says Bobby Calder, a professor of marketing at the Kellogg School. "Instead, you are trying to make an experiential connection – so the brand becomes part of the consumer's life in a way that connects with personal goals or values that are relevant to the individual."
2. 
Boost Conversion Rates on Paid Ads
Because of the new favorable trend towards earned media and authentic marketing, many brands are finding that their paid ads are suffering as a result.
But, when you inject a bit of customer-created social media content into the mix, you can easily boost those, just like Nike and Zara did.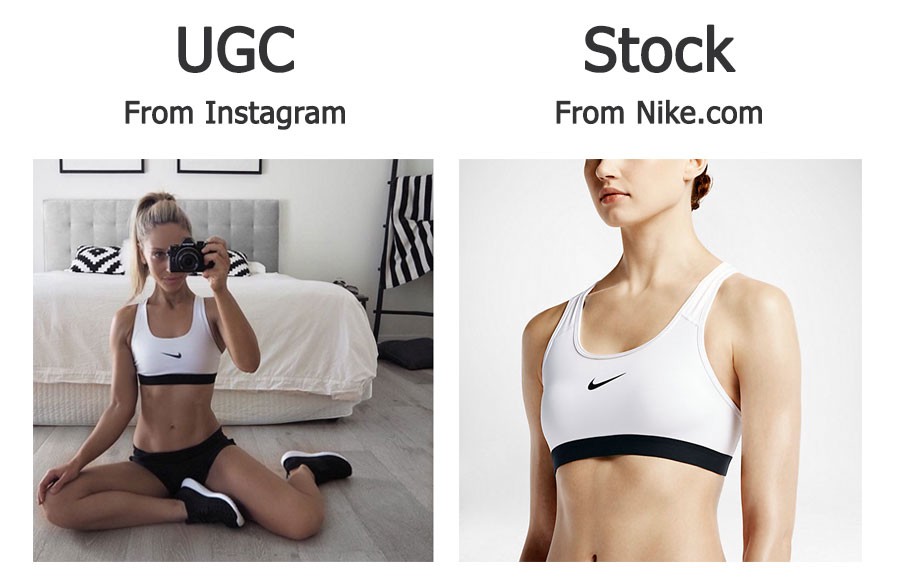 As an experiment, marketers set up A/B testing for a sports bra from Nike and a skirt from Zara.
An image of each was taken from a consumer on Instagram, while another standard, professionally-shot image of the product was used to compare. Both images were used in the same campaign, with the same target audience and placements, but the results spoke for themselves.
For Nike, the UGC image got a conversion rate of 0.90%, while the standard image only received a 0.31% conversion rate – three times lower.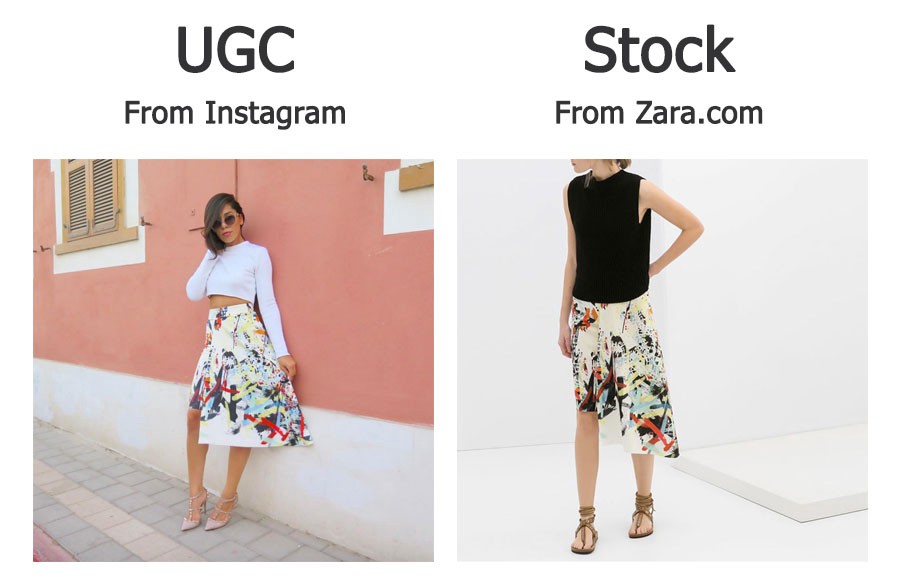 It was a similar story for Zara. The UGC image generated a conversion rate of 0.62% compared to 0.24% from the standard photo, which was 2.6 times better.
This just shows that UGC can boost conversions and sales in even traditional forms of online marketing.
3. Digital Signage + Earned Media = Influence Purchase Behavior
70% of Facebook users update their status when they're on holiday – it makes sense, because this is the "fun" side of their life, and everyone likes to share the best version of themselves on social media.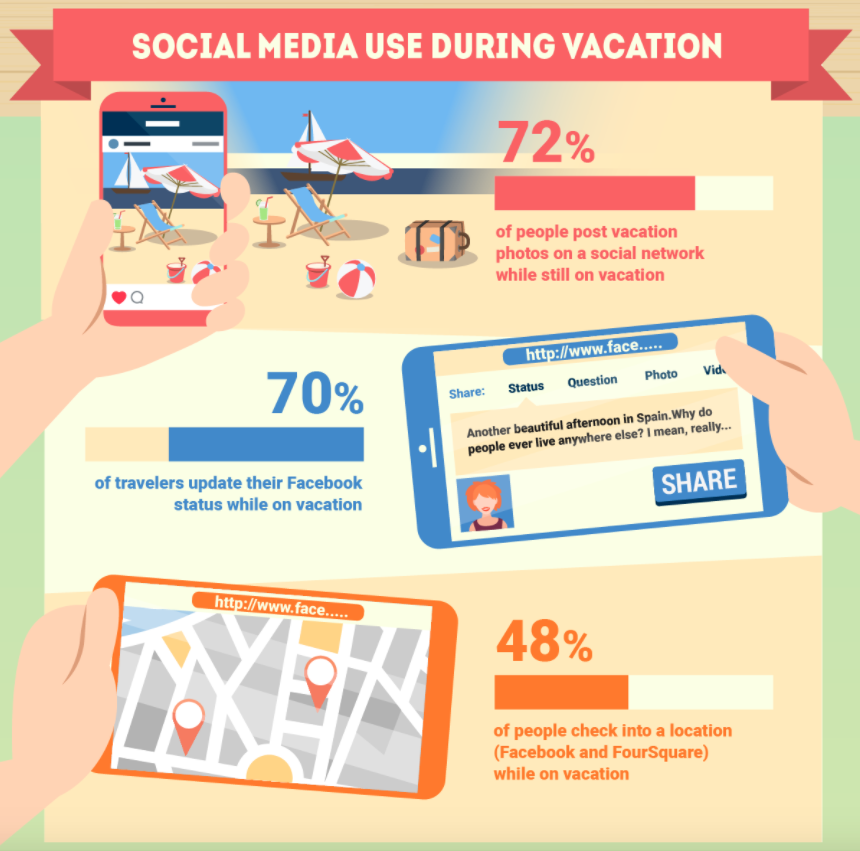 Guests don't have to take a picture of their room at your hotel, for example, in order to promote your business. Even if they share a photo of themselves having dinner at your restaurant or lounging by the pool, you can use this as marketing collateral.
Make the most of this powerful content you have access to by making sure your guests know what your designated hashtag is.
The best way to do that?
Attach it to digital signage around your hotel, so they're encouraged to share their experiences at the same time they can see previous guest experiences.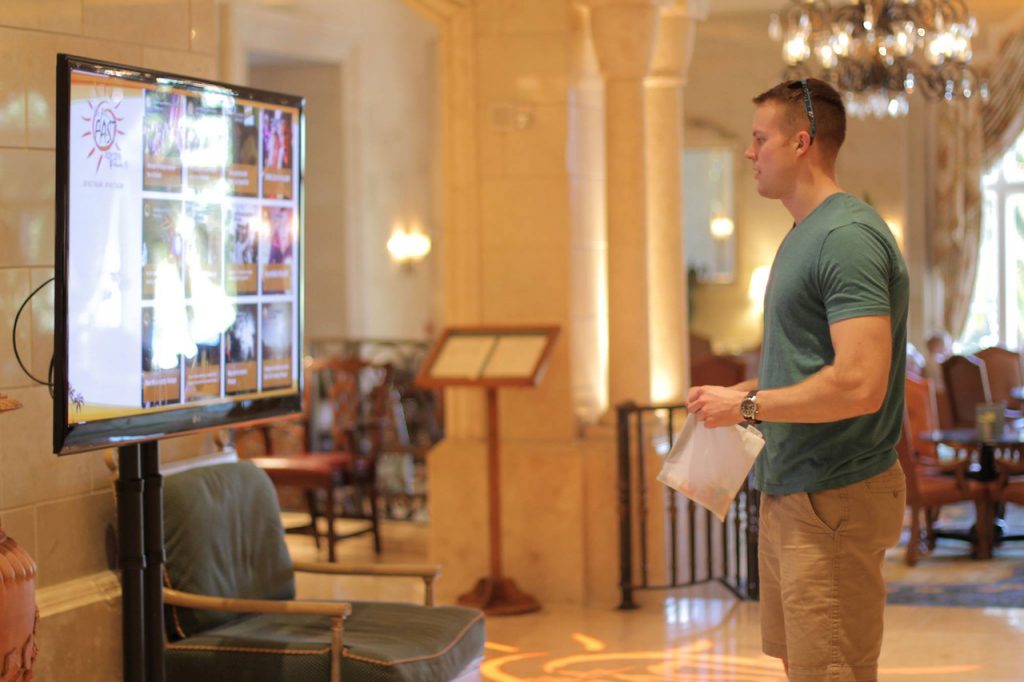 Remember the purchase stage of the Loews Hotel campaign? That's what you're aiming for here.
Be sure to add in call-to-actions in a number of places.
After all, 64% of millennials want more ways to share their opinions online and asking them to share those via a designated hashtag will directly impact your business for the better.
What's more, in the purchase stage of the customer journey, a whopping 97% of consumers state that the digital experience they have with brands via technologies like digital signage and online social media walls influences their buying decisions.
Other examples of Businesses using Customer Content on Digital Signage to influence purchase behavior: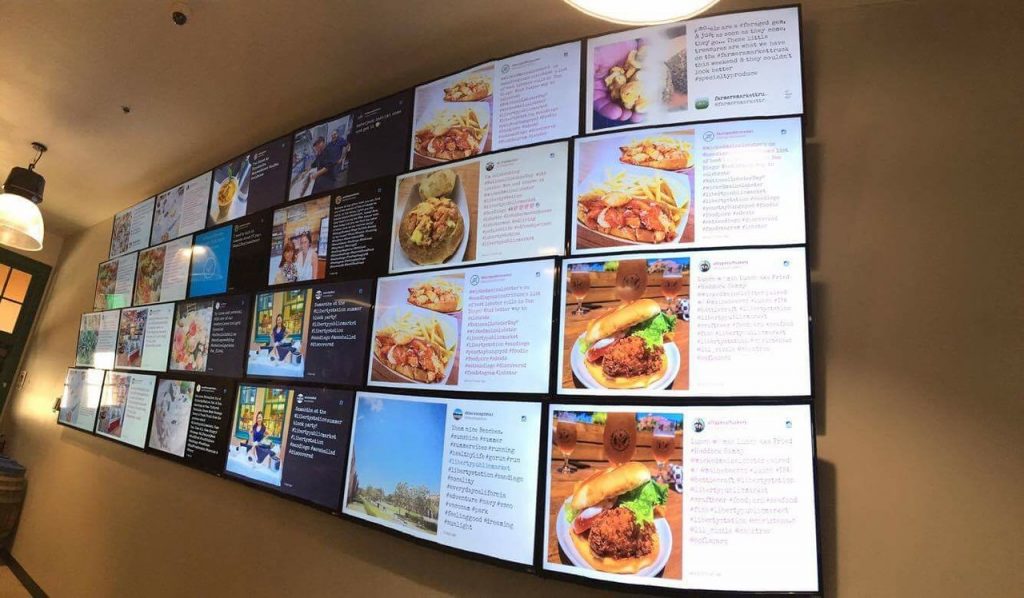 Liberty Market shared information with customers in-store to show what dishes could be bought and what other customers enjoyed.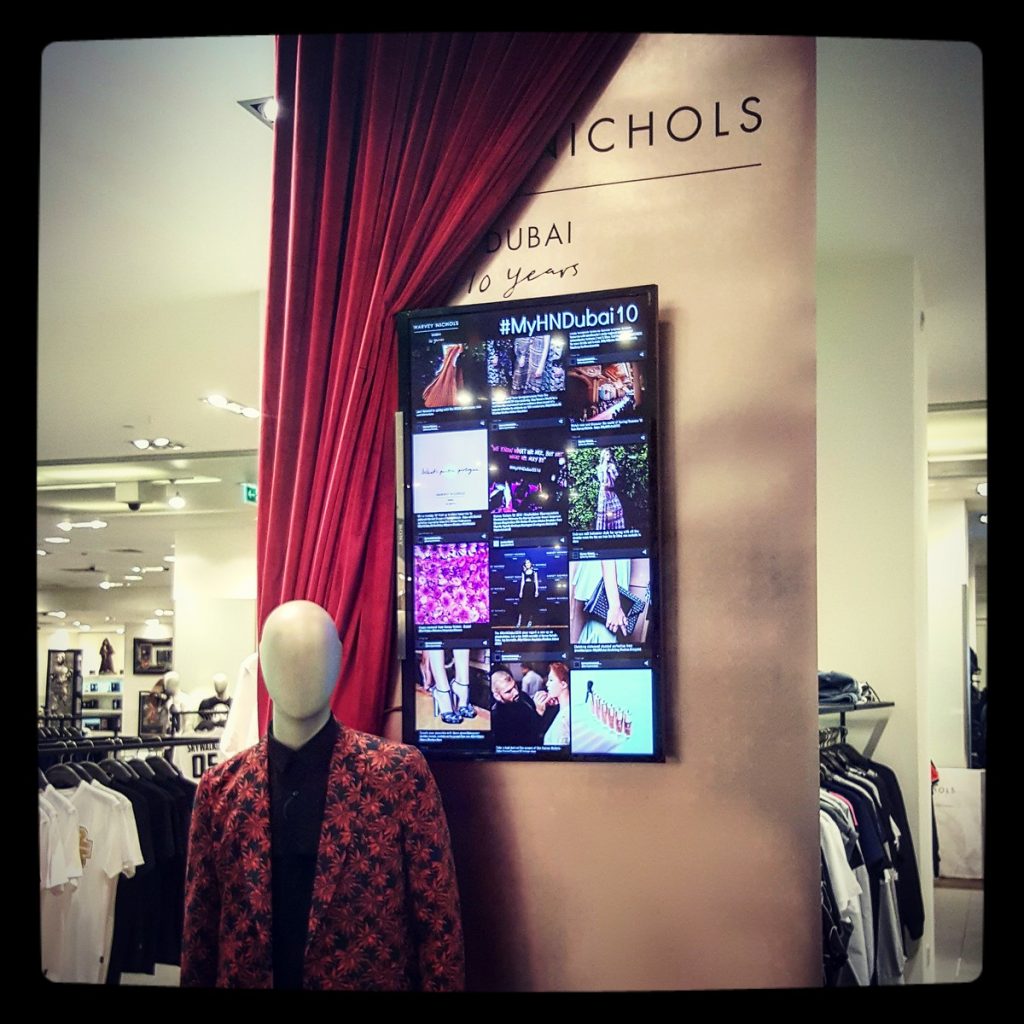 The #MyHNDubai campaign showed Instagram pictures of customers wearing the stock in store.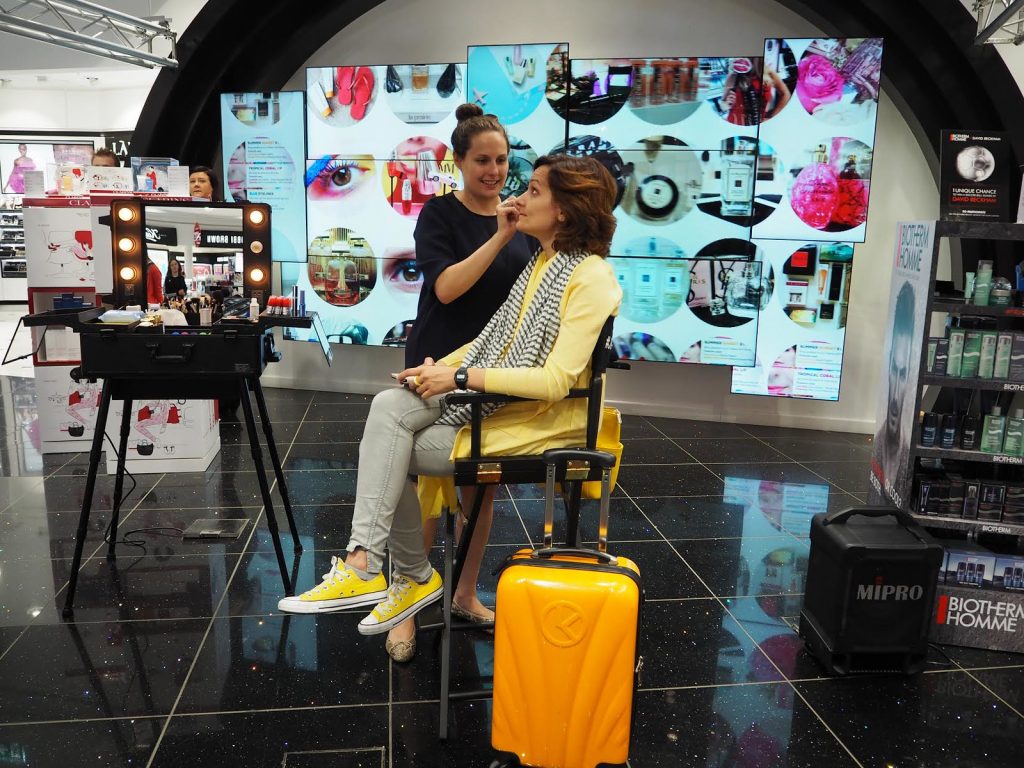 The World Duty Free Group shared user-generated content on a digital screen in-store.
4. Dramatically Improve SEO
One of the key ranking factors in SEO (search engine optimization) is fresh content. The problem a lot of eCommerce companies face is not being able to put out enough fresh content to keep them ranking high.
Most of the time, the only content they have on their site are manufacturer descriptions. When you bring earned media into the mix, though, you have an endless supply of fresh content that's being uploaded daily without any work from the marketing team.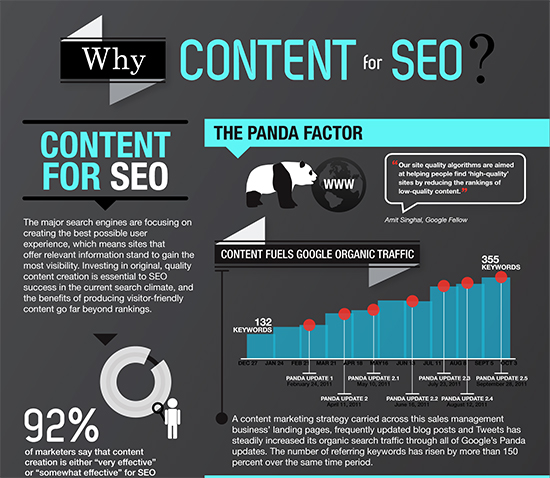 Implementing reviews is a valuable solution to SEO as it gives crawlers regular pieces of content to evaluate.
But that's not the only way UGC helps SEO.
It also helps you come up with long-tail keywords to target. With UGC, you can quickly see the trending topics your customers are sharing and, when they leave comments or reviews, you can easily see their feedback.
You can then dig into these queries and expectations to choose the right keywords for your campaigns.
5. Leverage Employee Generated Content to Drive New Revenue
Often, getting customers to engage isn't the only problem brands face.
Getting their own staff and employees to become advocates is even more difficult.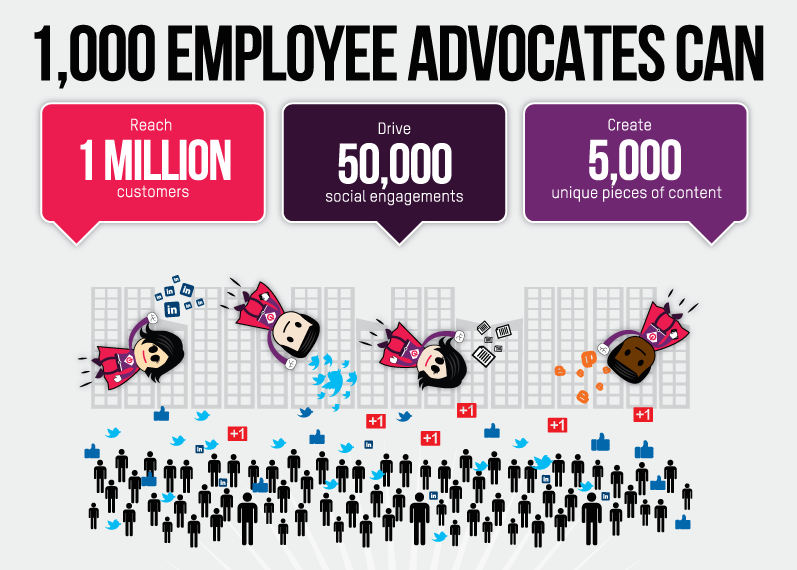 But when 1,000 employees can reach up to one million customers, it's easy to see just how powerful this technique can be.
For Specialty Produce, a family-owned food service business, encouraging employee engagement was a key goal. They wanted to connect up the farm side of their business to the restaurant side by creating a sense of community for their employees and clients.
Using TINT's software, they displayed customer generated content and employee generated content in one place throughout the warehouses so staff could see what was going on where.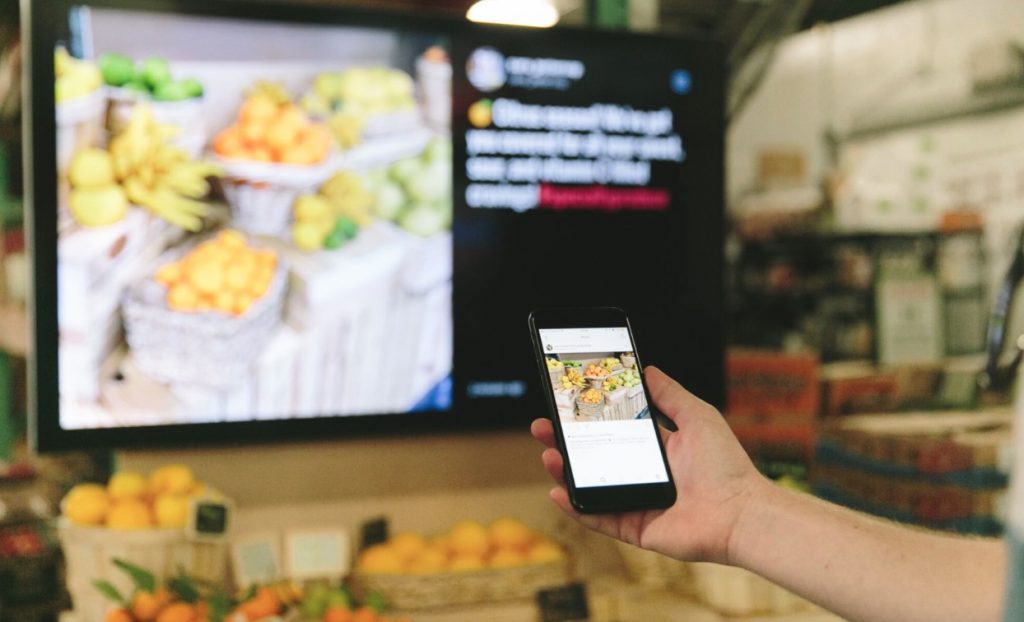 It led to more than 79,000 posts under the designated campaign hashtag, and generated 500+ million impressions across different social networks.
From this campaign alone, you can see how powerful employee engagement can be for reaching potential new customers.
6. Amplify Organic Reach with Influencer Marketing
Influencer marketing is growing more and more popular by the year. Last year alone, $570 million was spent globally on influencer marketing on Instagram.
But a lot of brands struggle to find the right influencers to promote their products.
It's all about finding someone who's relevant in the industry, produces quality content, and has a personality and presence that reflects the values of the brand.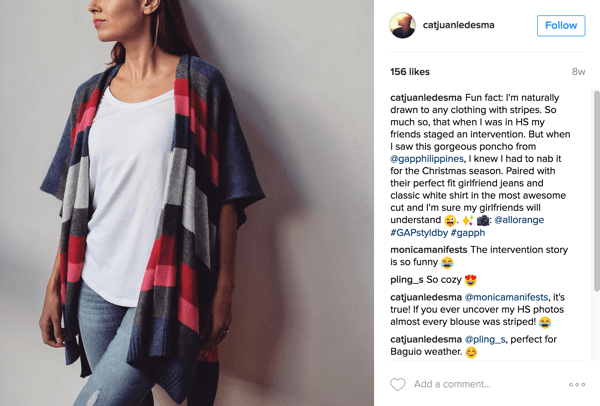 Gap's Styld.by campaign is a great example of an influencer marketing campaign that was a hit. The marketing team recruited several influencers with large followings across social media, who were then photographed wearing Gap products.
The campaign was successful because of the huge network the bloggers, models, and singers managed to tap into, but it was also such a simple idea and easy to execute. As a result, Gap managed to make their campaigns more successful by connecting with audiences in niches they may not have had access to before.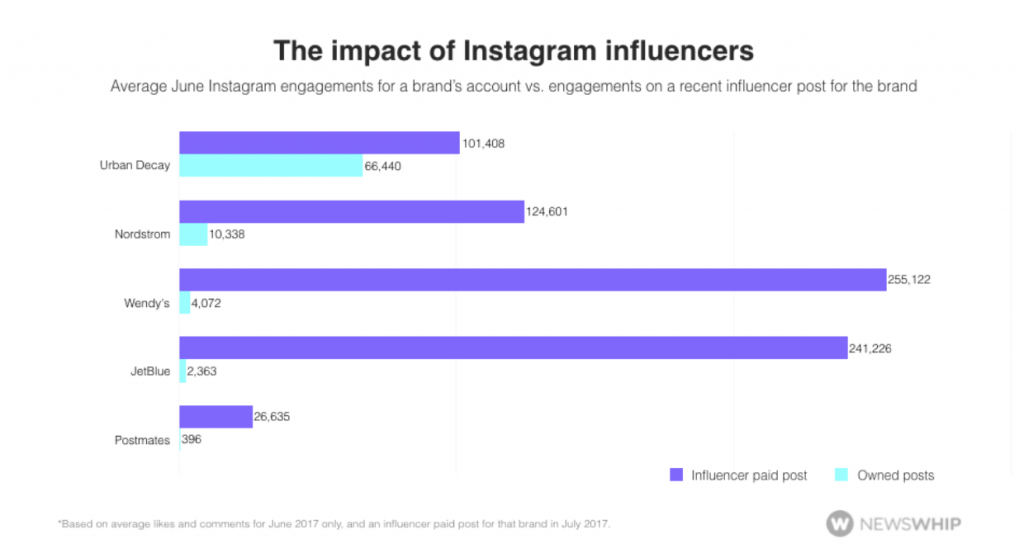 A study by NewsWhip showed that posts created by influencers received a significant amount more engagement than posts created by the brands themselves.
7. Boost Purchase Conversions
In a similar experiment to the Nike and Zara paid ads, a team of marketers created an eCommerce landing page and again A/B tested the images on it.
On one page, they used a standard image of the item (a red, high-heeled shoe), and on the other they used the standard image alongside a series of three user generated images from previous buyers.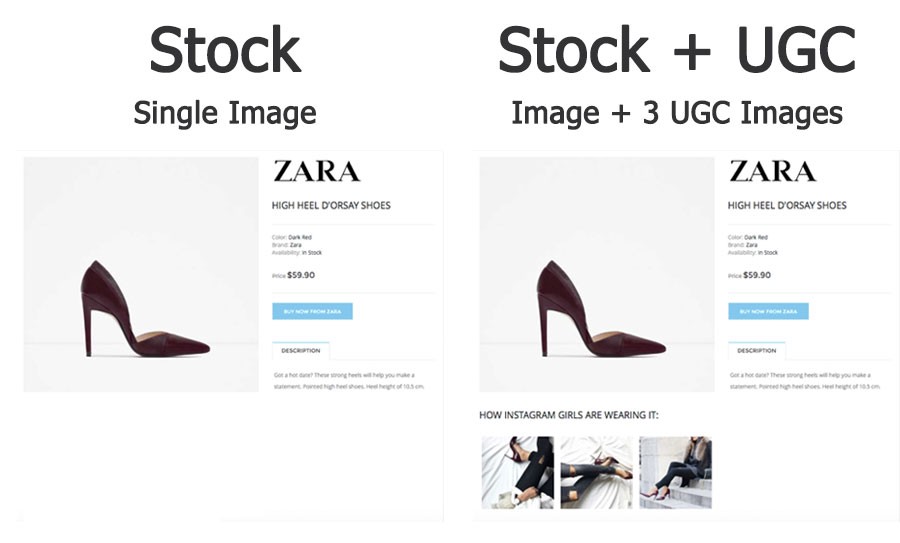 Half of users that landed on the page saw one version, and half saw the other. Google Adwords were used to drive traffic to each page.
The results followed a similar pattern to the paid ads experiment. The Click Through Rate (CTR) was measured by how many people clicked the "Add to Cart" button, and the page with the three user generated images received a CTR of 5.31%, which was 4x higher than the page with just the standard image on.
8. Generate Buzz With Event Marketing
Events are the perfect time to engage your audience – but it's something a lot of brands struggle with.
The key is taking your marketing away from the realm of traditional methods and implementing user generated content via a social media aggregator instead.
With a tool like TINT, you can bring together content from before, during, and after your event and display it all in one place for an interactive showcase.
Social walls at events have been proven to increase the buzz around your event, even before it starts. You can capture consumer's attention in the lead up and keep them engaged long after it's ended.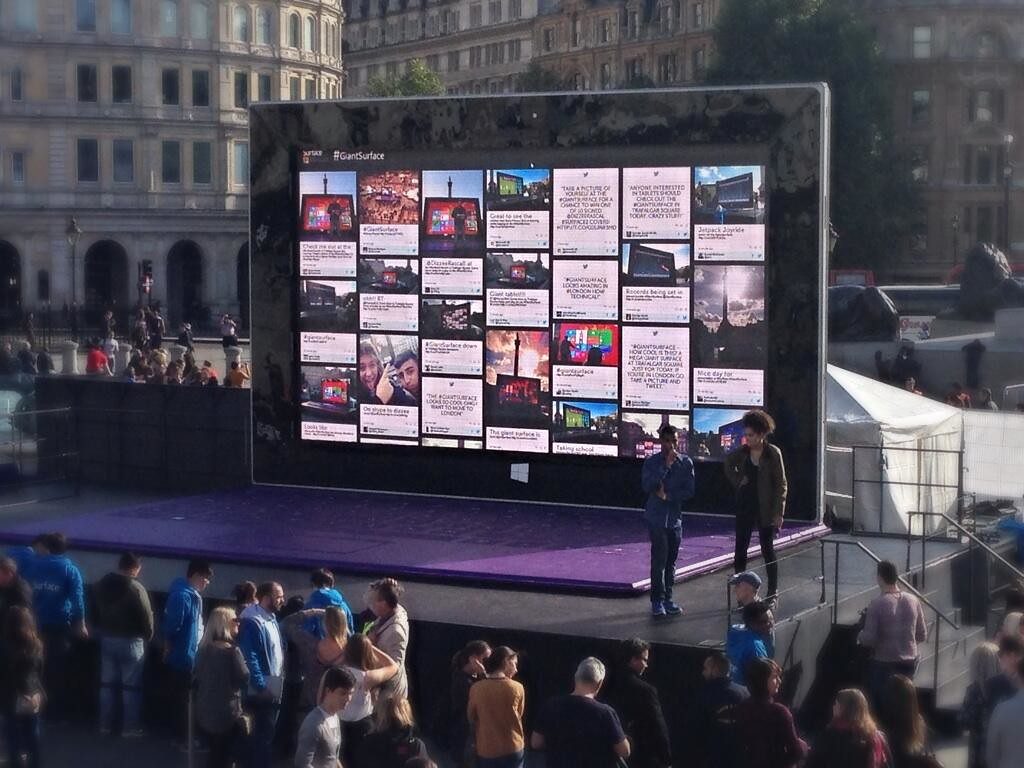 This TINT powered wall was shown at a Microsoft event.
9. Supercharge The Customer Journey
Deciding where to use user generated content throughout the customer journey can be tricky, but for some brands it can be extremely successful when done right.
Let's take a look at Loews Hotels, who have repurposed their customer content across their own marketing channels to build trust with their audience, regardless of how far along they are in the customer journey.
This is what it looks like for them:
Awareness

– Someone wants to book a trip to Chicago and they see a Facebook ad from Loews that showcases a user-generated photo from Instagram of a previous guest in Chicago.

Consideration

– They click the ad, which directs him to the Loews homepage, where there are ten other guest photos from Twitter that showcase hotels and other fun things to do in Chicago.

Purchase

– They book and visit the Chicago brand of the Loews Hotels and is welcomed in the lobby by TV screens with more user generated content that show things to do in the area. They share their own photo on Instagram.

Advocacy

– Loews messages them to ask if they can repurpose the content in return for a free one-night stay, which means the consumer is highly likely to go back.
Final thoughts
Brands now have access to millions of pieces of content that is published online every day. When you have that much content at your fingertips, from the people who can vouch for you the most (that's your customers), why wouldn't you start utilizing that in your content marketing strategy?
Implementing customer content into your strategy doesn't have to be complicated. In -fact, it can be very simple if you know who your audience is, what they're posting, and where they're posting it.
Tell us, how will you be adding customer content into your content marketing plan this year?