Social ecommerce has been a buzzword for ecommerce managers for a while, but it has—until this point—been difficult to actually implement. User-generated content (UGC) that shows your products in consumers' hands is one way to harness the power of word-of-mouth marketing. However, those in charge of online shopping experiences have had difficulty not only integrating UGC into a seamless buying process, but also securing the rights to reuse the content.
Fortunately, a number of technological advancements have made the proposition of implementing a social ecommerce solution far more accessible. Here are a couple ways that you can take advantage of UGC to drive social ecommerce strategies.
Create a Feed of Curated Customer Product Shots
You've done a lot of work of cultivating a passionate group of customers who love your product. Now it's time to let these folks become unofficial spokespeople for your brand by showcasing authentic photos of them using your products. That's exactly what a curated feed of customer product shots does.
By searching brand specific hashtags, handles or keywords, you can quickly discover UGC from these fans to be repurposed on your branded website. This is where a platform like TINT can help you excel by giving you the ability to collect the most engaging, relevant and impactful content across 15 different channels. And you can then showcase these amazing customer photos on your website with an out-of-the-box gallery on your website.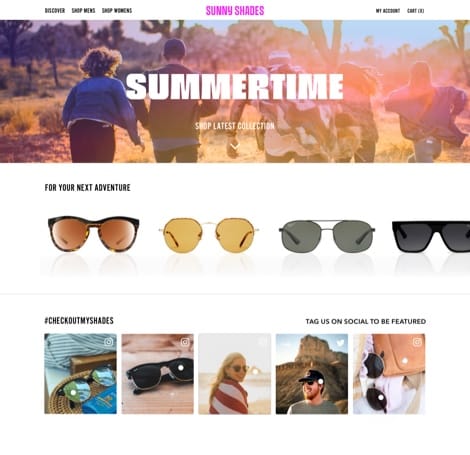 Furthermore, rather than a catch-all gallery for UGC, savvy brands implement a product gallery of consumer-generated content that showcases their products in real life. This kind of social proof helps to increase purchase conversions and decrease cart abandonments because users can actually see what the product looks like in real life.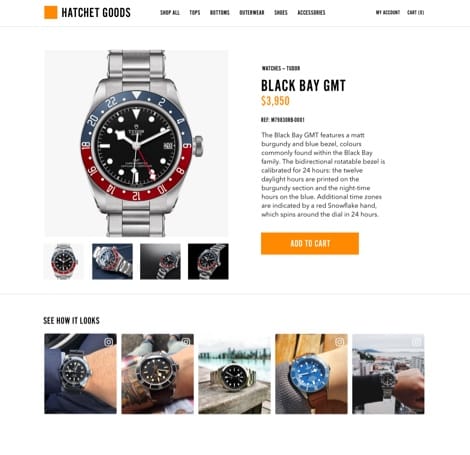 Make Those UGC Images Shoppable
It's one thing to have a nice photo wall of happy customers for online visitors to see. It's another thing entirely to have those images actively work a prospect through the purchase funnel.
Too often, these images are posted in insolation from the rest of the site—while the images may serve as visual candy to inspire potential purchases, they are often not connected to the specific product that's featured in the photo. So, a potential customer may be ready to make a purchase but have difficulty in actually finding the product they want to purchase. This is naturally more complicated on a mobile shopping experience, when screen real estate is at a premium.
The solution? Make those UGC images featuring your products shoppable. Do this with TINT by adding product call to actions (CTAs) and hotspots.

With a product CTA, the request to make a purchase is always visible on the photo. Some brands favor this very forward way of marketing as it clearly illuminates that the product featured in the image can easily be purchased with a quick click. For those companies that feel a product CTA takes away from the overall aesthetic of the photo, a hotspot strategy is one way to link the image to the product while preserving the experience.
Either way, making those consumer photos shoppable is one way to take UGC to the next level. And instead of having to tag every product manually, take advantage of TINT's deep learning algorithm HUE to quickly scan the social content produced by your audience and automatically map the images to your product catalogue to make them shoppable.
Secure User Rights to Repurpose UGC
While UGC is the lifeblood to any good social ecommerce program, one point must be emphasized: you must secure the rights to repurpose consumer photos throughout your product galleries.
In a world where memes catch like wildfire and digital assets are so easy to lift, it's imperative for brands to protect themselves from copyright infringement. This means that you must have explicit permission—that is documented—in order to use and repurpose the content that your customers create. After all, the last thing you want is consumers who love your brand to be turned off because you reused their photos without permission.
With TINT's out-of-the-box user rights management platform, your company can repurpose UGC legally and safely throughout your marketing channels. Simply identify a piece of social content that you want to reuse and the platform can kick off a process to reach out to that user, secure their permission to reuse the photo and document their acceptance.
Furthermore, the TINT copyright detection algorithm can quickly identify if that user was the actual creator of the asset. This safeguard helps protect your brand from using any photos that the social media user didn't actually possess the rights to.
TINT Can Help with Social Ecommerce
If your brand is looking to take the next step with social ecommerce, TINT is here to help. Our platform not only offers ways to create social image galleries, but also empowers you to create clickable hotspots and CTAs to help a prospect go from interest to purchase. This is done while protecting your brand by securing permissions from your consumers to repurpose their photos. Request a demo of the TINT platform today.
Header photo by Anete Lūsiņa via Unsplash.