Instagram is the top social network for social commerce. More and more consumers are starting their product discovery journey by connecting to brands and micro-influencers on the photo-driven platform. With so much marketing funnel traffic originating on Insta, marketers may find themselves asking, "How do I get more UGC from Instagram?"
Each year, consumers spend more time on social platforms. This constantly increasing usage has turned social networks into the ultimate marketing tool.  From brand awareness to conversion, the entire buying journey has made its way to social platforms. Savvy brands have taken it a step further.
Creating content at a regular cadence is a necessary part of a social commerce strategy, but it can be costly. Social managers and other marketers are busy enough. 72.2% of marketers report having more job responsibilities now compared to past years.  Curating ideas for your content and paying a specialist and team to handle content creation takes resources. Smart brands have figured out that they don't need those fancy product shoots anymore, and their team needs a new type of skillset that supports mass content creation.
Turn your customers into content creators.
User-generated content (UGC) is a photo, video, testimonial, review, or comment created by customers about your products. The users of your product create the content at no charge to the brand, this has become part of the normal social media experience. Customers are most likely to create UGC at the three most emotional stages of their buying journey:
When they first order their product 

When they get their order delivered

When they see the results of their purchase
Brands can capture this UGC and repurpose it across their social channels, creating a never-ending flywheel of free content they can use to promote their products. The efficiency of this is exciting—but so are the statistics,
Forty-eight percent of customers say UGC is a great way for them to discover new products

UGC content drives a 73% increase in email click-through rates

Ads based on UGC get 4x high click-through rates and a 50% drop in cost-per-click compared to average ads
Use UGC to increase brand awareness and conversions with these 4 simple steps.
Step One: Engage Your Audience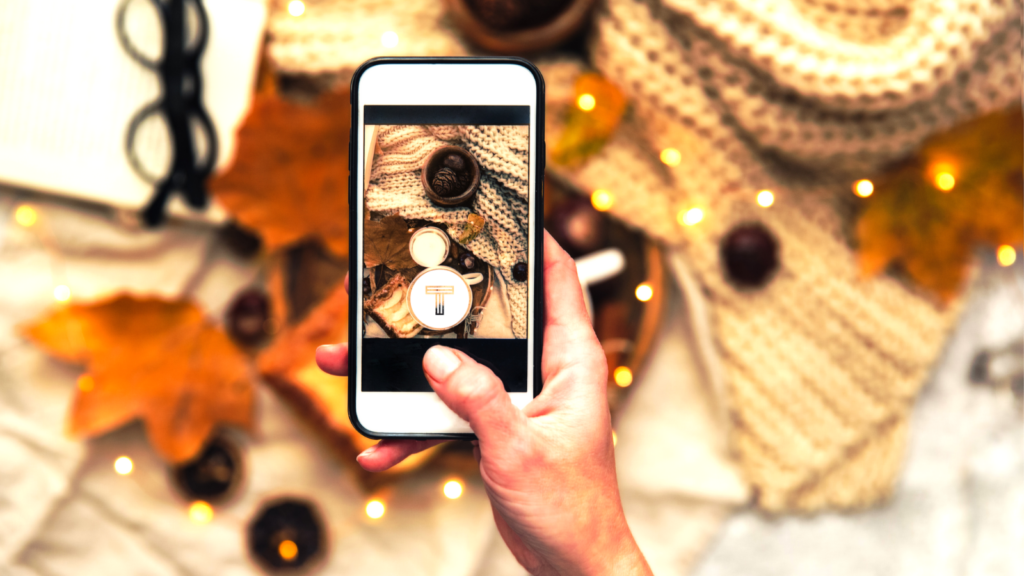 Asking your Instagram followers to share UGC is one of the best ways to boost user engagement. This tactic helps brands build a cohesive Instagram feed and create a deeper emotional bond with their customers. 
"Sharing other users' content is yet another way to engage with other Instagram users in a meaningful way," points out Cori Widen in a blog post for Boosted by Lightricks. "Asking to share someone's content is a much deeper level of engagement than just liking or commenting on it."
Fifty percent of consumers wish that brands would tell them what type of content to create and share. Make it easy for customers to be part of the social conversation around your brand. Make social accounts highly visible, put your hashtags everywhere, and consider implementing tools that encourage customers to create specific forms of UGC. 
For example, once a customer has purchased your product you can place a button on your Thank You Page that allows them to share their new purchase across social. Write some sample copy for people who may struggle to find the words in the moment. 
"We just ordered [product name]. T-Minus [days] until it arrives."
The key here is to be specific with your call to action. You want to provide your customers the exact steps you want them to take after purchasing your product, receiving it in the mail, or getting the benefits of it. You can use incentives like:
"Tag us in your Instagram story unboxing your [product name] for a chance to win a free [correlating product]!"
Every time a customer tags you on their UGC from Instagram, you're going to have more brand visibility, more social proof, and you have the opportunity to save that content to use in the future. (We'll show you how to ask for permission to use their content in Step Four)
Step Two: Post What You Want To See More Of
Now that you've encouraged your customers to create content about their new products, it's time to give them some examples as inspiration. These examples can come from previous UGC that fits the bill, or in company-created content if you don't have UGC examples yet. Better yet, if you're just starting your UGC journey you can lean on your employees to seed the first round of content. 
For example, you can post content to your Instagram feed of high-quality product images taken by customers or your company. This will showcase the level of quality you're looking for from your images and will help your audience know what you're looking for. Or, you can post your images in a certain style. For example, you can post images of your customers showing off their new clothes in street style-inspired content that shows them what you're looking for in their UGC.
Your aim here is to give your audience the template of what you're looking for them to create for you. You can even caption your post with initiatives like,
"Show us how you style your [Brand Name] [product] by tagging us in your street style photos for a feature on our profile."

"Take a video of yourself unboxing your [product name] and we'll share it with your audience!"

"Show us your before and after photos using [product name] for a chance to be featured on our profile and to win a free gift bundle!"
Remember, your audience wants you to tell them what UGC to create—feel free to be exact and specific.
Step Three: Teach Followers How To Share Their Images
You'll notice a pattern in the example captions and call to actions that we've written above—they all tell the customer exactly where to share their images. They tell the customer to share them on Instagram stories or their posts and to tag the brand so they can see them. This is an important part of your UGC process. You need to find UGC after it's been created, so having your customers tag you in it as they publish it is the hack of all UGC hacks to be able to save it for later use.
A platform like TINT helps you find UGC across social platforms and quickly pull it together into a single interface. From there, you can organize content into collections and take social beyond the network by embedding shoppable content on websites and emails. 
The name of the game is "Let's make your content life easier," so by automatically finding UGC and tagging it you'll be able to streamline your content production process like you haven't before; turning your customers into content creation engines. 
How should followers share their UGC from Instagram with your brand?
Tagging you in their Instagram stories

Tagging you in their Instagram posts

Using Brand-associated hashtags

Sending you their images and videos via DM
Choose how you want to receive tagged UGC and have your team ready to ask permission to use it. (Or use TINT to automate this process and automatically ask customers to use their content)
Step Four: Request Permission To Reuse Their Content
You have UGC now, but technically you're not allowed to use it outside of the social network. The rights to that image or video still belong to the customer and at this point, they haven't given your brand permission to distribute it.
No worries, this is the easiest part of the UGC process. Reach out to customers who have created UGC on Instagram with a comment or DM and ask them if you can use their image or video. You can also link out to your Terms & Conditions page, where customers can make sure they agree with the conditions you've set for repurposing their UGC.
You'll either have your team doing this manually or you can use TINT to automate the process of asking for permission and collecting all content at scale. Here's an example of what that looks like for you as the brand (on the left) and for the customer (on the right):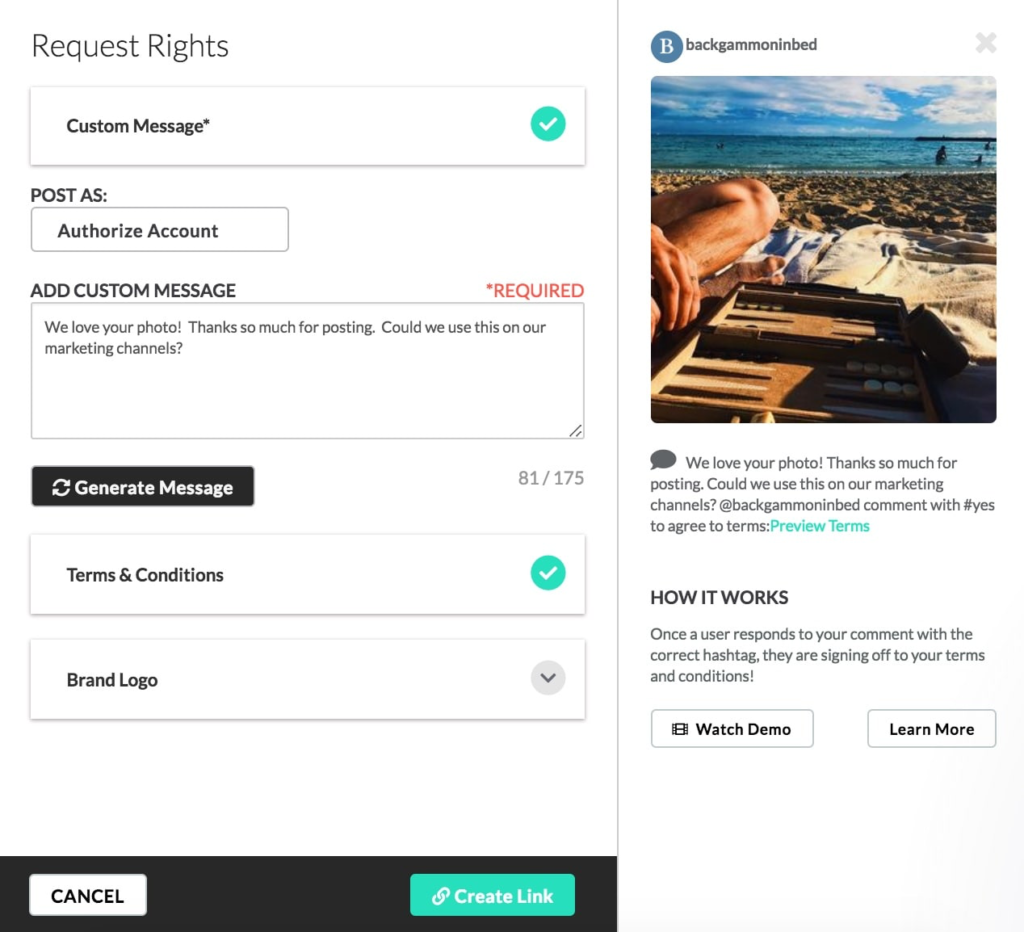 Once your customer has said "Yes" to your brand using their content and has agreed to the Terms & Conditions, you'll be able to save this content in your library. Whenever you need to promote a specific product or use this content in a campaign in the future, you'll be able to grab it and publish it on Instagram, your other social networks, your website, and even in print.
All without spending money on content creation—that's the beauty of user-generated content.
UGC is a high-performing type of content whose power can't be ignored. Brands have realized that customers don't want them to describe how great the product is. They want like-minded people to show that the products deliver on their promises. These brands have taken it a step further by lowering their content creation budget through these 4 steps to generate more UGC from Instagram that they can use for their marketing campaigns.
If you think UGC would increase brand awareness and conversions for your brand (while decreasing content curation costs), schedule a free consultation with the TINT team to learn more.