A picture is worth a thousand words, especially when you want to humblebrag about your latest holiday to your friends on social media.
Today, 90% of millennials post on social media while they're traveling, while another 40% rely on user generated content (UGC) when they're booking their own jaunts. This means it's almost impossible for hotels to ignore the power of UGC.
It's hard to deny: when your guests are kicking back with a cocktail, they become some of the best storytellers you have access to.
In fact, there's a simple formula that calculates just how many potential storytellers you have staying at your hotel each year. If you have 100 rooms on-site with an average 60% occupancy rate and around 1.4 guests per room, that's over 30,000 storytellers living under your roof every single year.

Combine this with the not-so-surprising news that the average Facebook user has 200 friends, you have the opportunity to tap into a pool of more than six million people a year simply by leveraging the images, reviews, and experiences your guests share on social media.
And, with Facebook's new algorithm in play which gives preference to posts made by user's friends and family, it's more important than ever to integrate your guests into your social media strategy.
So how can you leverage consumer-generated content to boost your ROI? Let's take a look at some key examples.
1. Create a Social TV Channel like Atlantis The Palm, Dubai
While you don't need to create the next CBS, you can put together a social TV channel to air your guest's content in-room.
Atlantis The Palm, Dubai resort in Dubai did exactly this.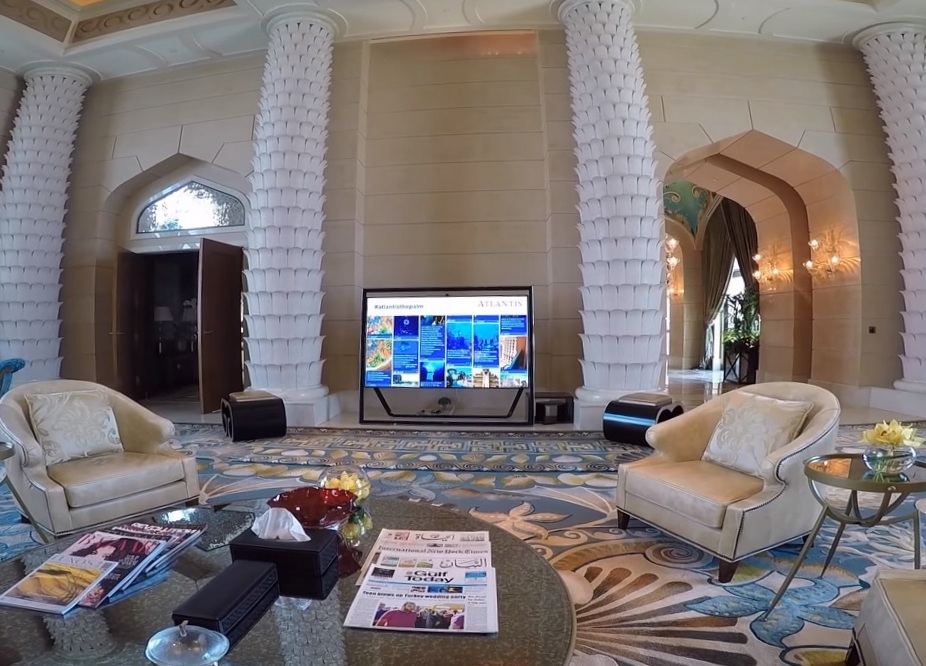 Their groundbreaking (because, yes, they are one of the first and only hotels to do this) TV channel airs highly-targeted UGC to guests that have checked in and are looking for inspiration.
You see, a lot of hotels make the mistake of targeting potential customers, rather than the people who have already chosen to stay at their hotel. These people can be untapped gold mines – just think of the potential spend on-site, like in the restaurant or on hotel-run tours.
By integrating TINT, the channel brings together a mixture of content created by guests and a series of powerful CTAs which drive engagement and on-property sales.
The resort can easily moderate what content is being aired and are able to filter out any negative mentions. But, at the same time, they can send personalized streams of information to different types of customer.
For example, the hotel restaurant has the potential for big-spend customers to splash the cash.
Combine this with the knowledge that consumers are highly likely to seek out peer reviews about restaurants, and a perfectly timed spot of UGC swooping in at the right moment can work wonders for sales.
You can promote high-profit-earning dishes, or blast out breakfast, lunch, and dinner recommendations to hungry guests.
2. Show UGC in Communal Areas like the Ritz-Carlton
Following on from the idea of tapping into on-site guests as opposed to potential customers, let's take a look at how the Ritz-Carlton used a TINT screen in their lobby to generate more sales in house.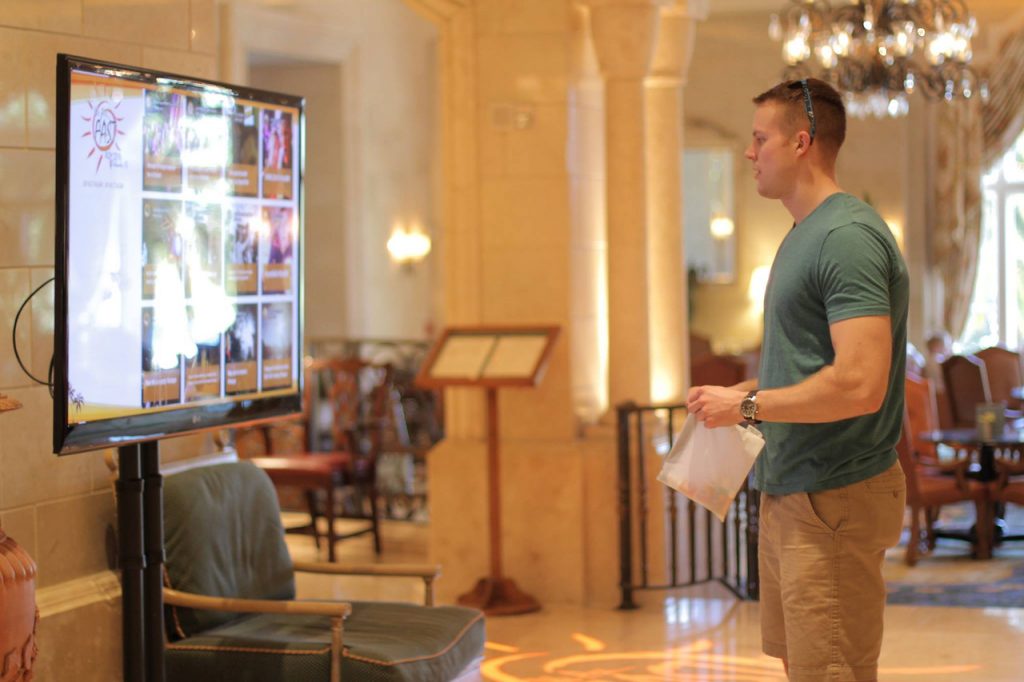 Just take a moment to consider what you're showing on screens around your lobby or in guest rooms – is it a slideshow polished to perfection by the marketing department? Or maybe it's a video showing shiny happy models that have never spent a single night in your hotel.
If the answer is yes, you're missing out. Big time.
Did you know that social media posts influence around 59% of global purchasing decisions?
Which means that if you replace those polished snapshots of smiling models that barely anyone can relate to with consumer generated content that has been shared on social media by real-life guests that have stayed at and enjoyed your hotel, you're more likely to see an increase in sales on-site.
Like Atlantis The Palm, Dubai, you can show restaurant recommendations from other guests, showcase Instagram shots of real-life guests lounging by the pool to give new visitors inspiration for how to spend their day or, like the Marriott, share guest experiences using a designated hashtag.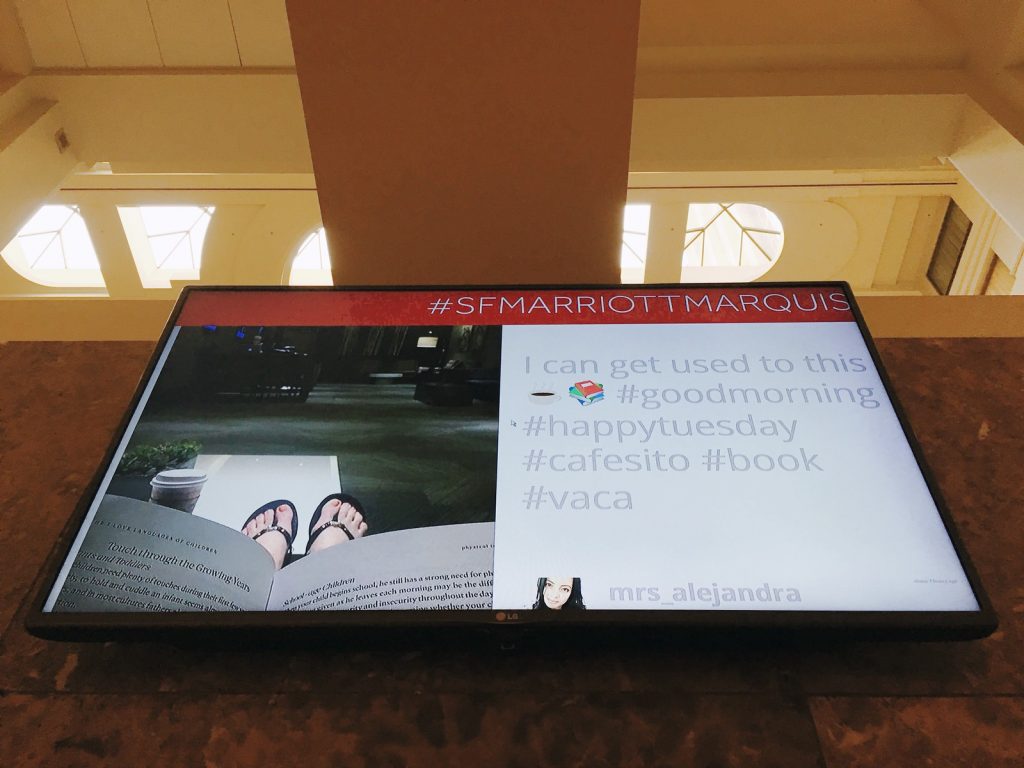 3. Build Your Brand Around Social like The Sol Wave House
The Sol Wave House in Majorca could have stepped elegantly out of an episode of Black Mirror.
To say they've embraced social media is a massive understatement.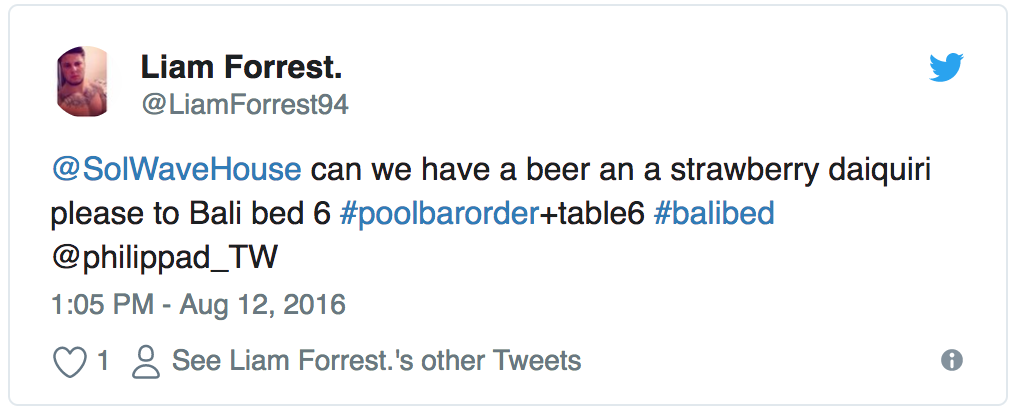 In fact, they've gone so far as to operate the entire hotel through hashtags.
There are Twitter-themed rooms, social media inspired cocktails, and the ability for guests to do anything and everything by Tweeting, which is kind of like the hotel's in-house currency.
This integration of social media into the guest experience has led to a huge increase in interaction on Twitter around the core hashtag, #SocialWave, as well as smaller, more niche hashtags, like #poolbarorder, which lets guests order a round of drinks from the comfort of their sun lounger.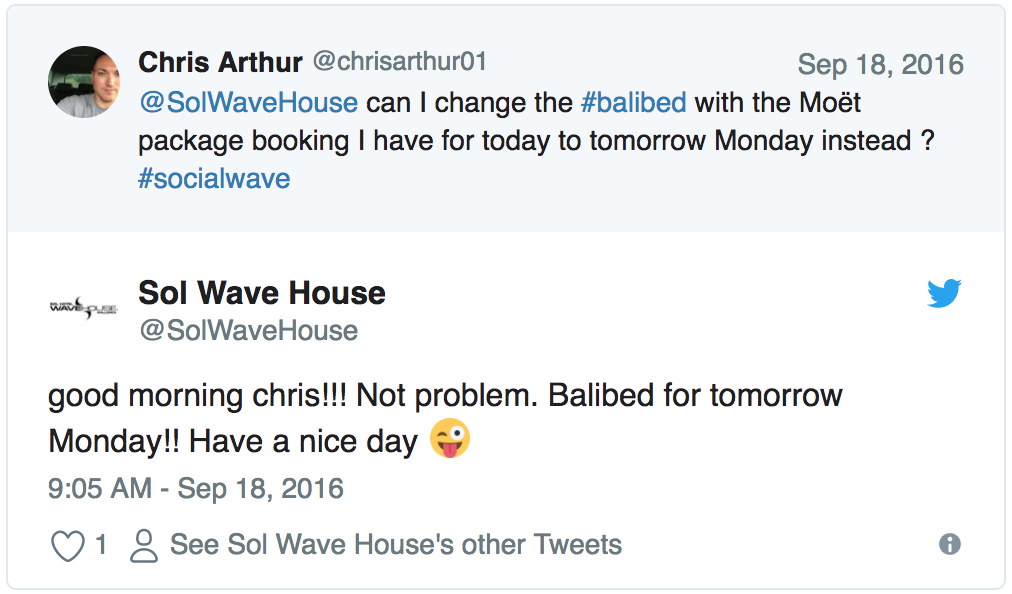 The novel approach for ordering goods and requesting comforts from hotel reception entices guests to want to get involved, which leads to more social buzz and more on-site sales.
4. Create a Dedicated Web Page like Hyatt
Instead of limiting their social buzz to Twitter or Instagram, Hyatt has taken it a step further and created a dedicated microsite where they show all of the consumer generated content in one place.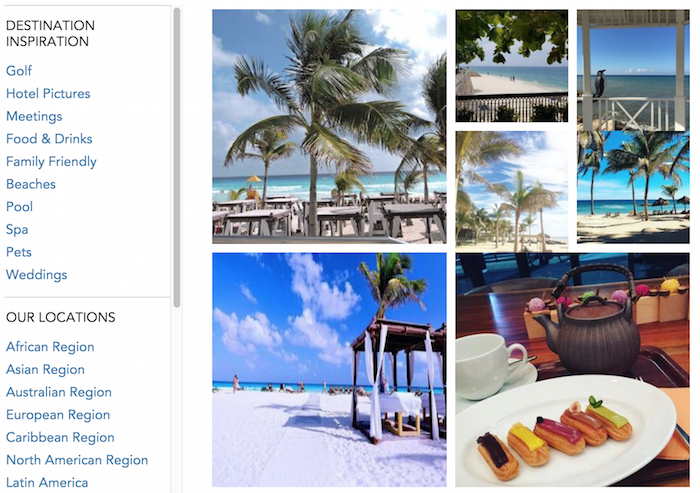 What's the point of this? You ask.
It means that guests can filter through the content and search for specific aspects of the hotel that they want to know more about.
It's presented in an Instagram-style format, but it integrates a prominent "book now" call-to-action.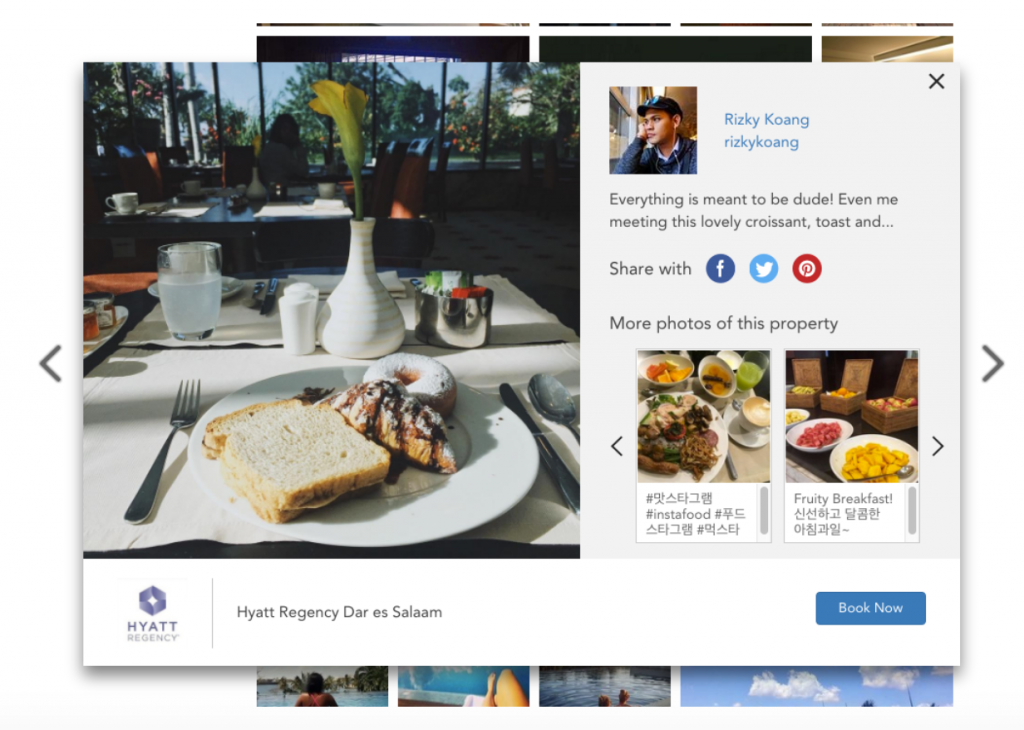 Guests can easily filter their searches depending on what kind of inspiration they are looking for (whether it's pet photos or family snapshots) so they can build their own trip around what suits them.
This ability to personalize content in the customer buying process is invaluable – in fact, one study found that 73% of consumers are fed up of being presented with irrelevant content. Not ideal if you're looking to build a loyal customer base.
5. Integrate Consumer Generated Content Throughout the Customer Journey like Loews Hotels
Loews hotels are experts at collecting UGC and spreading it far and wide.
Like Hyatt, they don't keep content created by their guests confined to social channels. Instead, they use TINT to integrate Tweets, reviews, and images throughout the customer journey, ranging from all their social networks, to their websites, and even in their print materials.
According to research, 87% of millennials appreciate unedited reviews on a company website, while integrating UGC into Facebook ads at the start of the customer journey can dramatically increase clickthrough rates and conversions because users find it more relatable than polished ads made by marketing departments (who, let's face it, have one aim).
"Social media has been at the core of who our brand is for the last few years. This was just about elevating that platform," says Piper Stevens, the Senior Director of Brand Loyalty and Marketing Communications at the hotel.
Their #TravelForReal campaign is often touted as a prime example of UGC benefitting a hotel brand, simply because it taps into why content created by consumers is so powerful – because it is real and relatable, and because it increased hotel bookings by 35%.
6. Host a Competition like Caravelle Resort
Happy guests spread happy words about a hotel – fact.
And Caravelle Resort wanted to leverage this notion. To do this, they host a competition four times a year that encourages people to share their experiences at the resort under the hashtag #HappyGuest.
Each time, a winner is chosen for a free two-night stay.
Sure, people love getting free stuff, but a competition is so much more than that. It generates a feeling of community around a brand and creates a social buzz.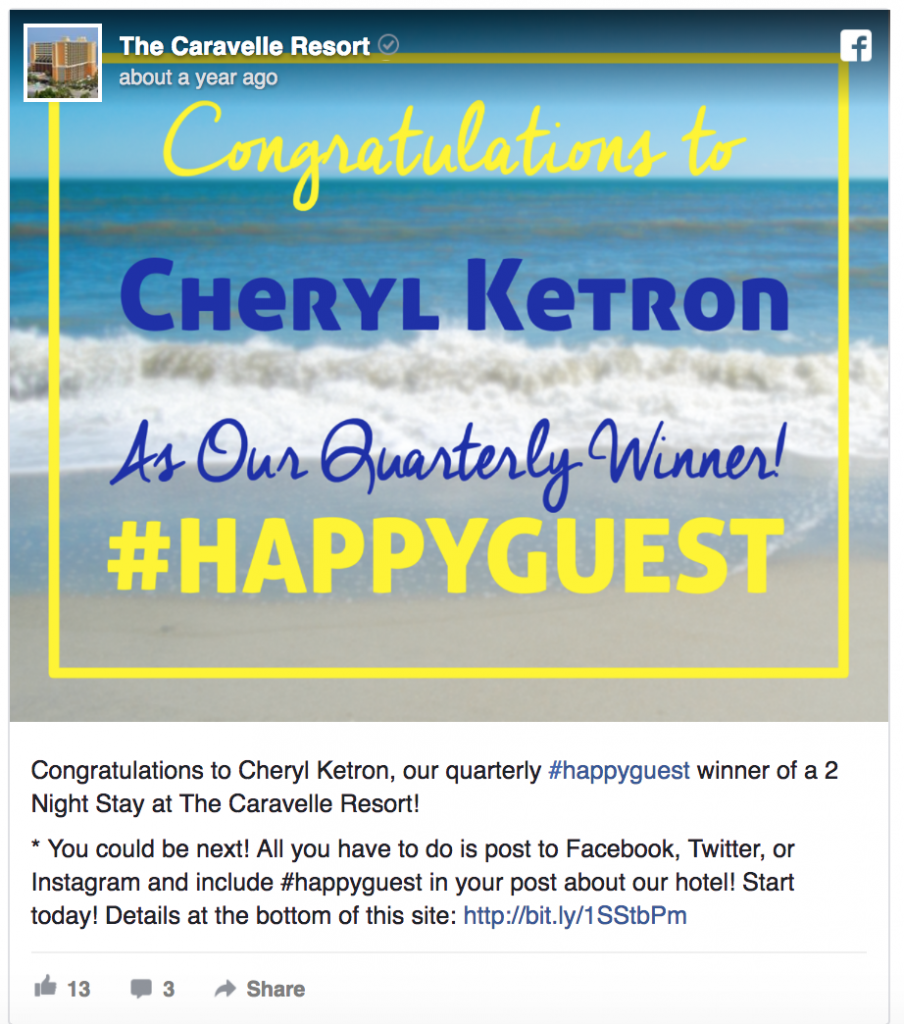 Hyatt Regency have followed suit, too, with their "It's Good Not to Be Home" campaign.
They partnered with Comedy Central and put together a video series with comedian Iliza Shlesinger that promoted a chance to win tickets to one of the comedian's shows. Guests were asked to share their "not at home" moments using the #AtHyattRegency and #PassportToComedy hashtags.
The campaign resulted in over 2 million impressions in 90 days and boosted the brand's Facebook community by 33%. On top of that, it helped drive a 17% increase in Hyatt Gold Passport loyalty program enrollments.
7. Use Offline Prompts like The 57 Hotel
Consumer generated content doesn't have to sit solely in the realms of the digital world. In fact, The 57 Hotel in Sydney has seen a boost in engagement UGC by sharing offline prompts with guests in their rooms.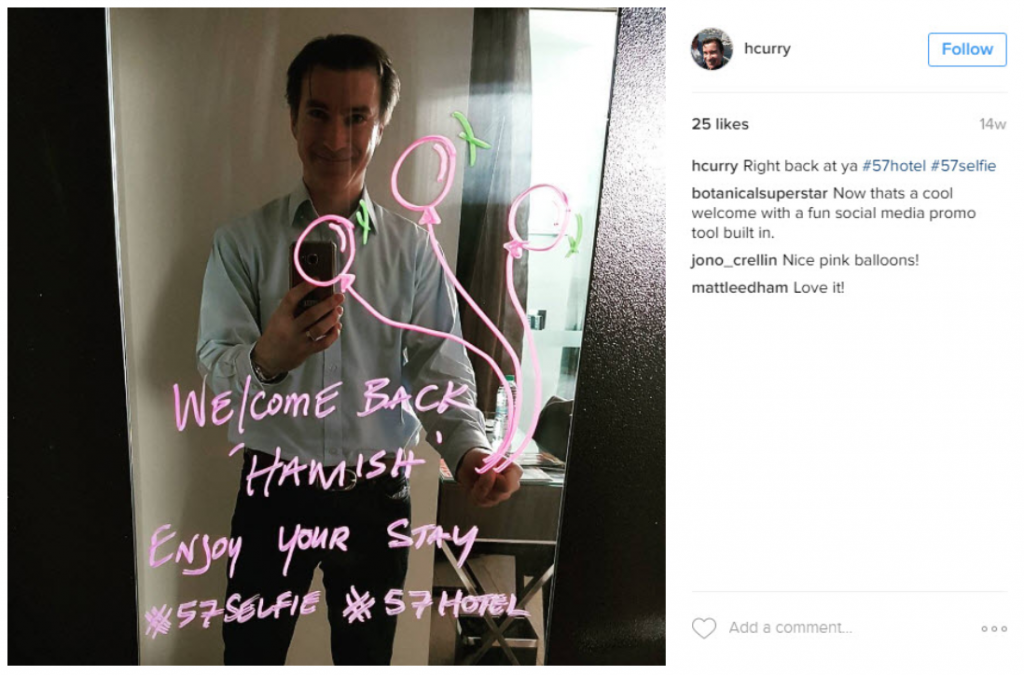 As part of the campaign, they write personalized messages on the mirrors in each room that welcomes each guest and encourages them to share a selfie using the hashtags #57Selfie and #57Hotel.
When each guest shares their selfie with their social network, they're essentially showcasing it as a fun place to stay, which is the overall brand feel the hotel is going for.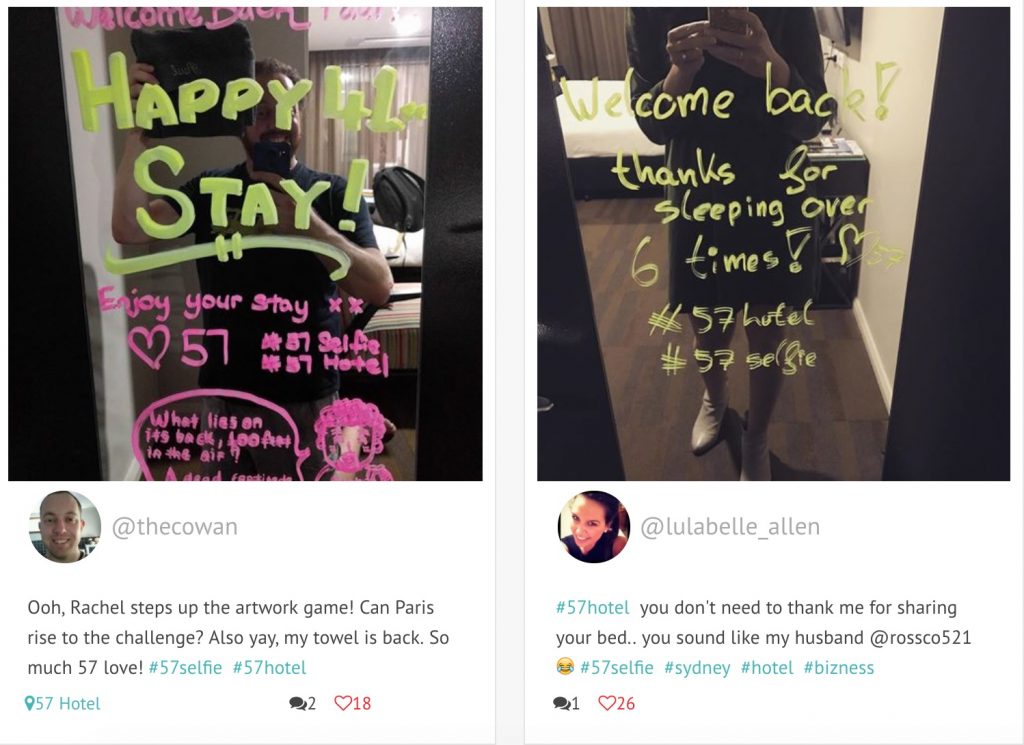 8. Utilize Influencers like Le Meridien
What with Facebook's new algorithm favoring posts by family and friends over big-name brands, influencer marketing has shifted from companies utilizing huge celebrities with mammoth following to promote their brand to smaller, more niche micro-influencers becoming more cost-effective and successful way to advertise.
Influencers can drastically amplify the reach of a campaign, and Le Meridien tapped into this. The hotel partnered up with photographer Gray Malin to create a global art collaboration that focused on Le Meridien properties.
The brand managed to tap into Malin's following on Instagram who were already avid followers and promote the hotel as a funky, must-visit destination. As a result, the campaign generated more than 8 million impressions and increased the hotel's follower count by 31%.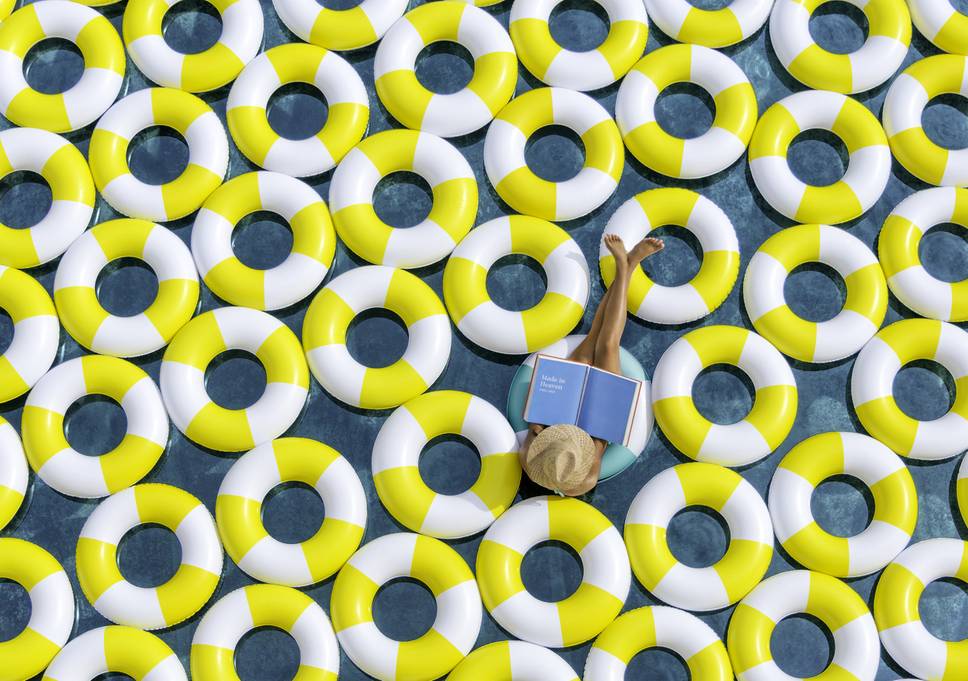 Consumer Generated Content Boosts ROI
Hotels that are tapping into the power of consumer generated content in campaigns are enjoying a boost in sales, engagement, and brand loyalty. By sharing content that is relevant to their audiences and relatable, they're leveraging the success of word-of-mouth marketing (which is still one of the most powerful forms of marketing).
And there are plenty of ways that UGC can boost ROI, whether that's by integrating consumer created photos and reviews throughout the customer buying process to inject a sense of trust, or by taking it to the next level and creating a brand new social TV channel to share personalized content on in guest rooms.
Thanks for reading. Connect with me on LinkedIn!
If you're ready to integrate consumer generated content in your hotel marketing campaign, get in touch today and get a free strategy session with us today.