What makes buyers click the purchase button?
Your buyers are always looking out for reasons they shouldn't trust your brand. It's because people have a natural aversion to loss. Loss aversion motivates buyers to compare similar products and spend time thinking about each purchase. 
Which product works better?
Which product looks nicer?
Which product is worth the money?
People are more informed than ever before. They have a better understanding of marketing strategies and aren't easily swayed into purchases. Sixty-nine percent of online shopping carts are abandoned—and even more carts are abandoned on mobile devices.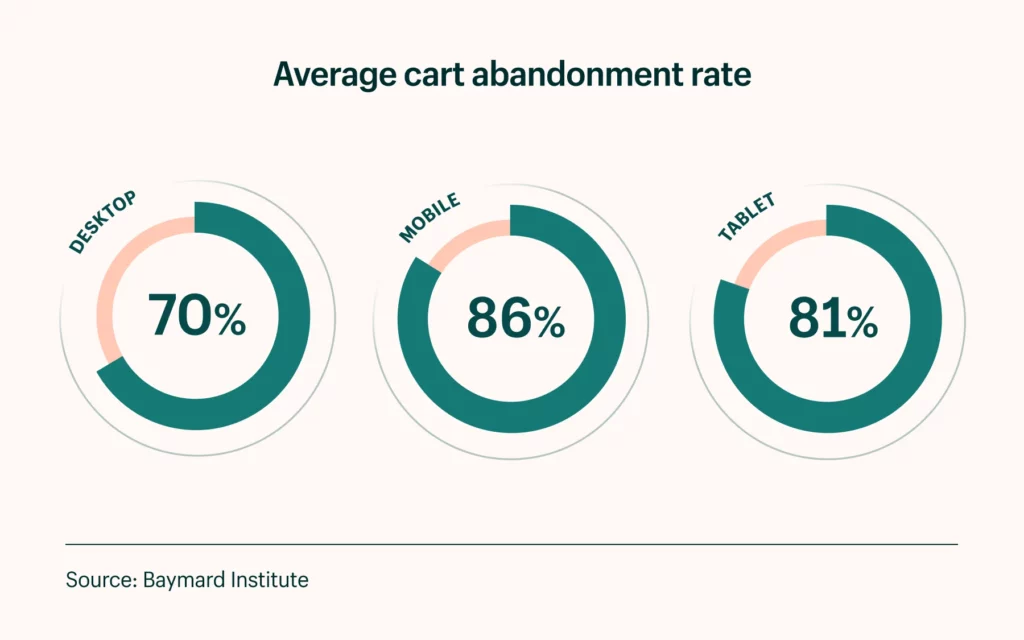 Buyers want to click buy with confidence. And that requires trust between brand and buyer. 
How can you get your hot leads to turn into customers? By having your previous customers do the selling for you.
The Impact of Ratings & Reviews on Purchase Behavior
What makes people buy?
Several factors play a role. Aside from a great brand experience, products that solve the buyer's pain point, and the right price—76% of consumers have purchased a product because of someone else's recommendation before, which personalizes their experience.
Buyers move past the tipping point of a buying journey thanks to your customer's voices. New buyers want to know if previous buyers are happy with their experience. Sixty-two percent of people surveyed report being more likely to click on content like ads, websites, social posts, or emails, that feature customer photos rather than an image created by the brand.
Ratings and reviews are the tipping point of every buying journey. Your hot leads need an extra push to know this is the right product for them. And they don't want that push from your brand. They're looking to hear from your customers. 
It's time to put your customers and new buyers in touch with each other.
How Reviews Impact Conversions 
Ratings and reviews create social proof that builds credibility and reputation.
Robert Cialdini placed social proof as one of the six principles of persuasion because of its dramatic impact on consumer behavior. Our 2022 State of User-Generated Content Report found that seventy-two percent of people surveyed believe that reviews and testimonials submitted by customers are more credible than the brand talking about their products.
Here's the thing: you don't need thousands of reviews. The Spiegel Research Center discovered that just 5 reviews increased the likelihood of a purchase by 270% in comparison to a product without reviews. For higher-priced products—reviews are an even more important factor in the buying process.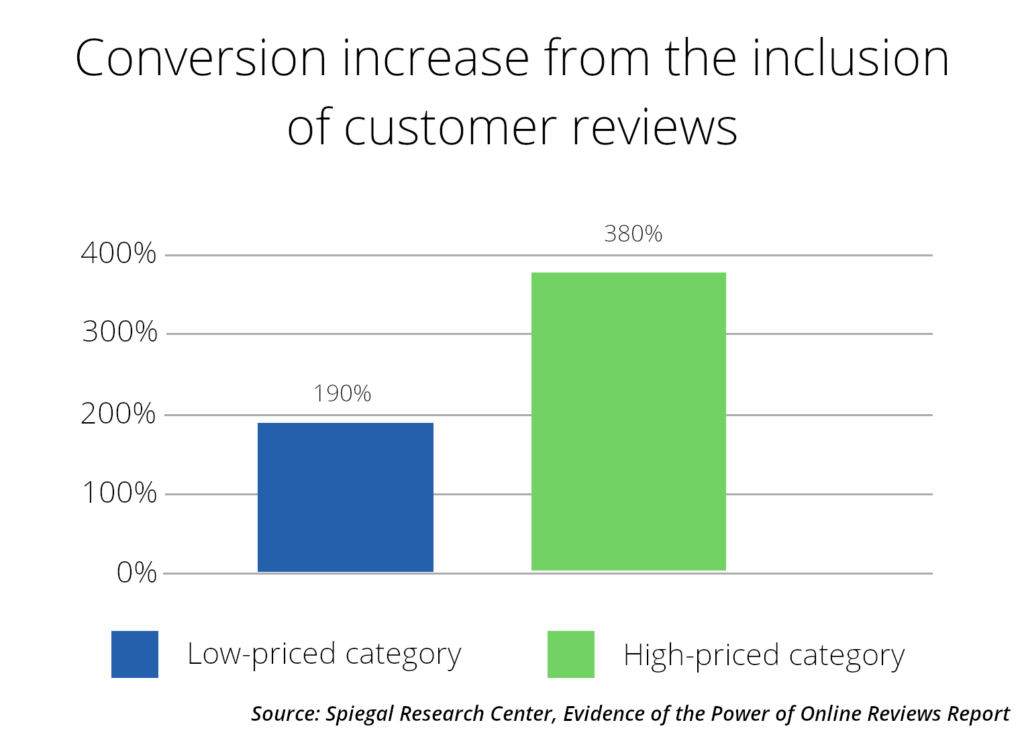 But just because your products are great doesn't necessarily mean your customers are flocking to leave reviews. Reviews are as much a strategic part of your marketing strategy as bringing people towards a purchase.
How can you get more reviews?
How To Get More Reviews From Customers
Customers are happy to leave reviews, especially when they see other customers taking the lead. Ninety-one percent of consumers agree that when brands they like and use re-share content by customers, they are more likely to share content about the brand or its products. Consumer behavior shows that people want to leave reviews about your products—you just need to inspire them to take action.
There are 4 reasons people leave reviews:
They had an extreme reaction (either positive or negative).
They loved their experience so much that they want to share it with others.
They want to help others with the same pain point or challenge.
They were offered an incentive.
Your customers are having these experiences every day. Use these 3 easy strategies to get more reviews (and conversions!) for each of your products.
#1: Reach Out to Loyal Customers
Don't wait for your customers to leave reviews. Ask them for reviews. Create an automated email in your post-purchase series that asks customers to leave a review. Send this email a few days or weeks after purchase while your products, and their benefits, are still top-of-mind. LMNT sends a post-purchase email requesting a review 20 days after customers receive their electrolytes. They strategically make their email simple with a single request to leave a review (notice how they haven't added any links to products or upcoming sales). They also automatically fill in the 5-star option.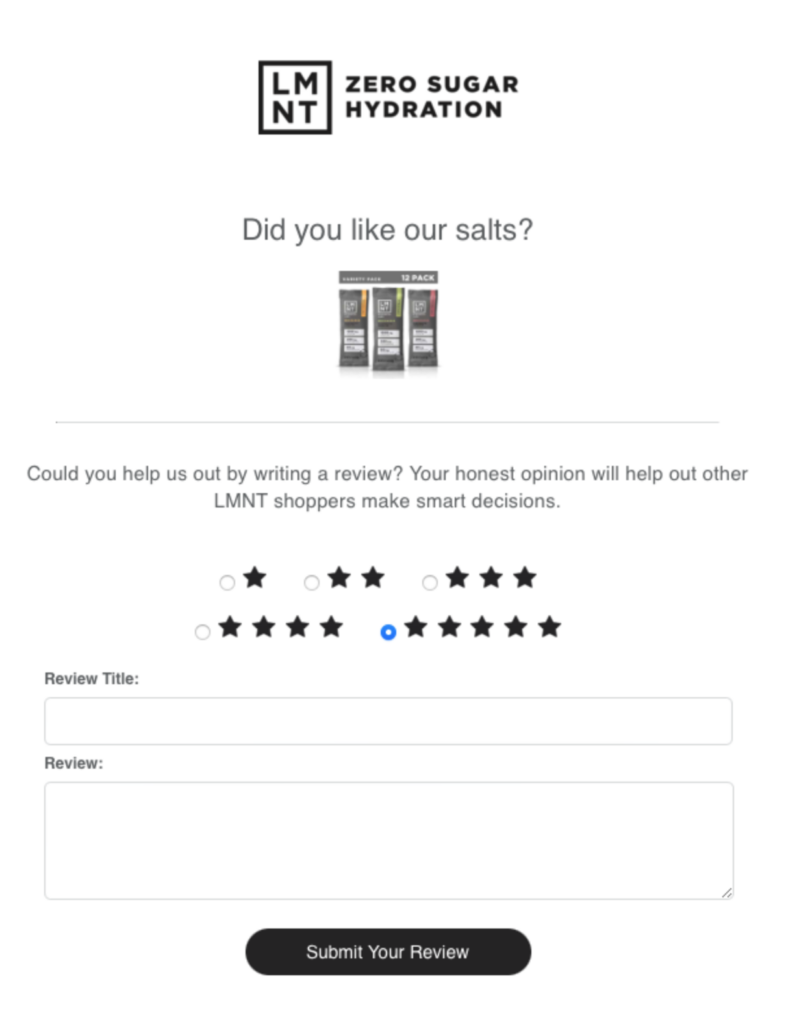 #2: Share User-Generated Content
When your customers see other customers sharing their product experience–they get inspired. They see how they could make a fun Instagram Reel featuring your product or what they could talk about in a quick TikTok. This doesn't have to come from professional influencers, either. Share user-generated content across your online channels and ask your customers to send in their UGC through your post-purchase emails and packaging.
Liquid Death made themselves distinct in the on-the-go water space through their branding. As founder Mike Cessario explains, "We launched on social media long before we ever had a real product. Cut to three or four months later and our Facebook page has more followers than Aquafina and our marketing video has three million views." Their social channels feature UGC from their customers of people cliff diving while drinking from a Liquid Death can and a woman "shotgunning" their product.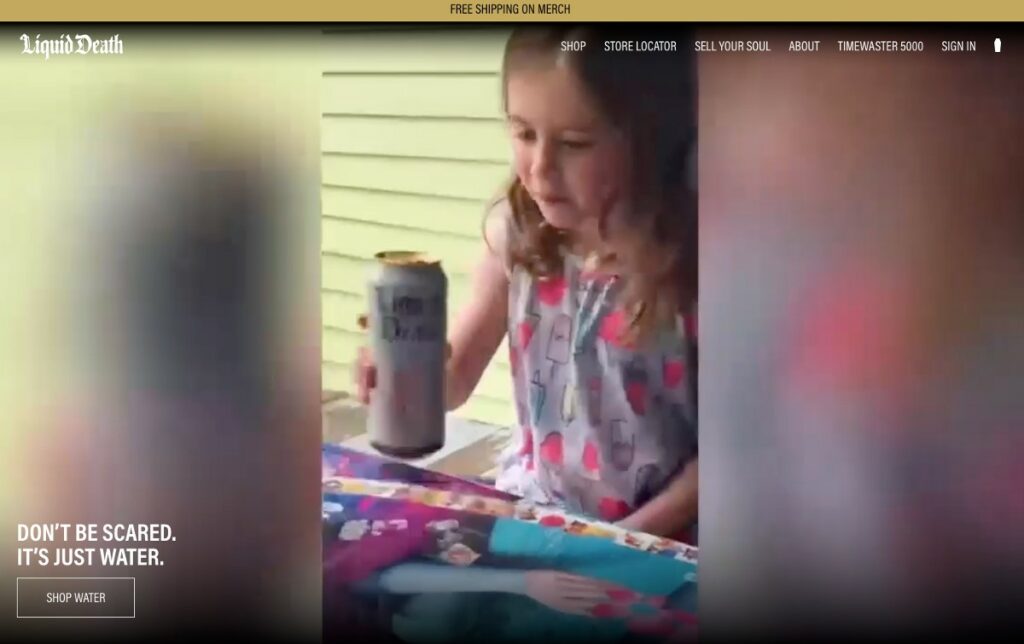 #3: Make It Easy
Your customers are happy to support your business—but that doesn't mean they'll go through a tedious process to create a review for you. If your review process is too complicated…you'll lose out on the amazing reviews your customers want to leave. Audit your review process to see how you can make it more simple and more straightforward. 
Take a page out of LMNT's book and send a simple email with ONE call to action: "Leave us a review." Let people leave their reviews directly in the email so they don't have to click on another page. The less friction, the more reviews you'll collect.
Instead of asking customers to read through your brand guidelines—just show them what you're looking for. Take a scroll through Liquid Death's marketing channels for some inspiration. (And remind your customers they don't need to be professional influencers to get featured!)
Incentive your customers with a free gift, access to exclusive content, or a discount code in return for a review. Make it easy for them to say yes to leaving a review. The bonus of this strategy is that you'll get reviews from your happiest customers (the ones who are dying for that free gift, content, or discount for their next purchase).
Once you start getting reviews, share them across your marketing channels and touchpoints. One review can live on your product page and turn into an Instagram Reel, TikTok, tweet LinkedIn post, and even make its way to your in-person marketing channels. The Loews hotel adds user-generated content to their keycards!
Each touchpoint in your customer journey (from brand awareness to the post-purchase experience) has dozens of touchpoints to add reviews to. These reviews are the social proof that give your brand credibility and a positive reputation. Your loss-averse buyers are on the hunt for them.
So give them what they're looking for.
Turn Your Customers into Your Sales Team
Happy customers love to share their experiences.
People want to connect with their favorite brands, and getting featured on their online and offline channels is a special experience that nurtures the brand relationship. It's up to brands to give buyers a place to share it and highlight their reviews and user-generated content. This builds the ultimate buying flywheel where your reviews turn into customers that continue to leave reviews!
Build trust at every step of your buying journey through TINT. TINT's UGC Platform uses machine learning to automatically find reviews and user-generated content so your marketing team can focus on the important stuff. You'll also be able to tag, organize, and easily repurpose your social content across your multiple channels and touchpoints (both online and offline!).
Schedule a demo with TINT today to see how brands like Canon, Marriott, and Nestle are using TINT to showcase reviews and UGC.