Travel marketing is powered by creative ideas that keep locations and services top of mind throughout the year. These are weird times for travel, tourism, and hospitality, and even stranger times for the professionals who create their content. More than a year has passed since the first lockdown and tourism marketers are gearing up to engage audiences as people slowly return to travel. But many tourists are still wary, creating a tightrope walk for marketing and communications teams. 
What content do you create when your number one offer (flights, getaways, and hotel stays) is the last thing people are interested in buying?
It is projected that travel will not return to pre-pandemic levels until 2023. But that doesn't mean you shut down your marketing budget for a few years. Your brand-to-consumer relationship has to continue, or else your customers will simply forget and look towards your competition that did keep in touch.
This is the time for the travel industry to build trust and community with their customers. Show off why people should choose you when it's time to travel again. But, how do you build trust, community, and communicate your value when people can't actually fly in your airplanes, visit your city, or book a night at your hotel?
We're looking at three cases where travel, tourism, and hospitality organizations are working hard to stay top of mind using user-generated content. 
How a Destination Marketing Organization is Staying Top-Of-Mind
The Blue Mountains sit about two hours west of Sydney, Australia. Travelers to New South Wales may know the region for its picturesque views of Mount Irvine and Mount Wilson. 2020 was an especially hard year, with both COVID and the Australian brush fires forcing local businesses into survival mode. 
#LoveLocal, and #LoveLocalBlueMountains, was an innovative UGC campaign created by the municipality. Destination marketing and economic development entities will often focus almost exclusively on high-value tourism targets. DMO recovery campaigns have tended to keep their messaging around venues, events, food, and cultural institutions. The team at Blue Mountains took a different approach. 
Love Local sought to give viewers a fully inclusive perspective of life and culture in the Blue Mountains. They live-streamed and recorded local musicians. They hosted a series of virtual workshops featuring local artisans guiding classes on everything from pizza making to lego animation to building a frog hotel for conservation. The newest program phase adds "Love Local Tradies" where local tradespeople like mechanics and construction workers will be added to the conversation.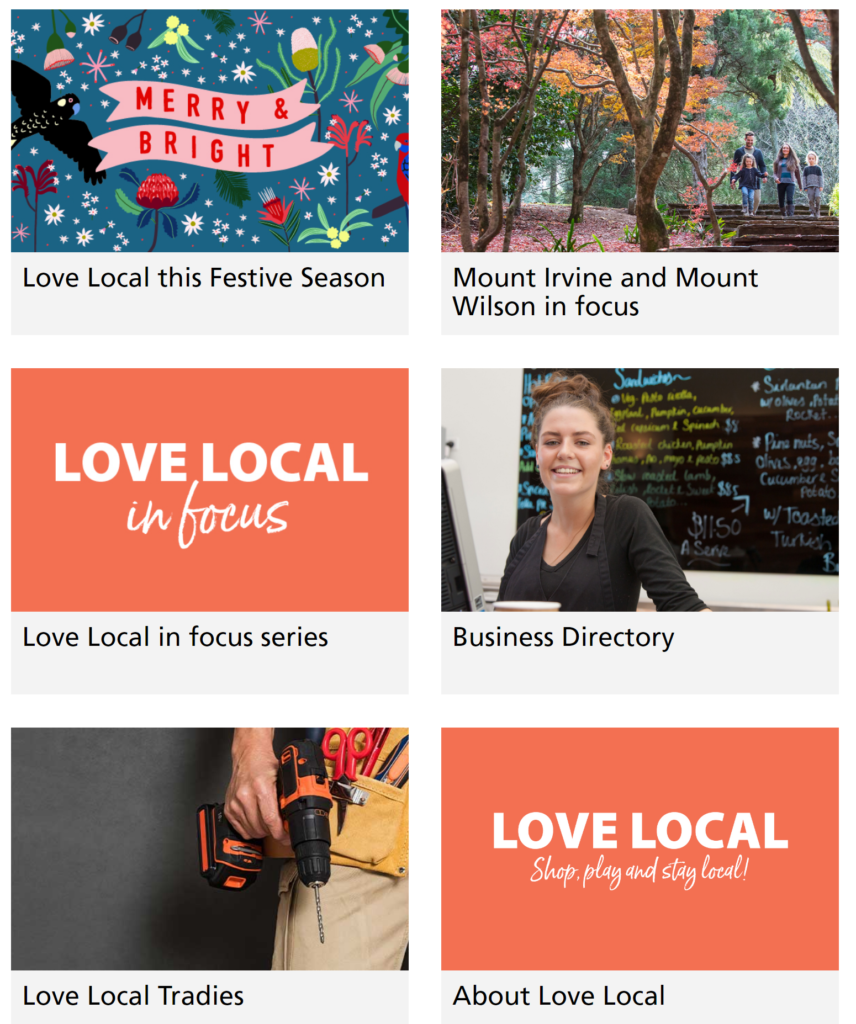 Blue Mountains turned to their communities and villages to showcase the thing that makes them unique, their people. Every shop, restaurant, and business had an opportunity to participate either in the directory services, streaming services, or by contributing to the hashtags. This turns every member of the community into an influencer and content creator, showcasing a truly authentic face of the region and driving tourism.  
How a Travel Agency is Staying Top-of-Mind
Travel Agency Liberty Travel is keeping wanderlust alive with vacation photos that make their ideal customer stop scrolling. They've been posting photos and images from around the world…despite not having access to any of these locations. How? By taking advantage of user-generated content.
User-generated content is content around a product or service created by customers. In Liberty Travel's case, their content comes from the photos and videos taken on their travelers' past vacations. These are photos from Jamaica's 7-mile beach, the Martha Brae River, and Bora Bora's crystal clear waters.
By repurposing user-generated content from their customers' Instagram feeds to their own, Liberty Travel has a stream of new content they use to keep their followers' travel bug alive. Better yet, they can do this without needing to be on location. They can get those shots of Cancun, the Caribbean, and the Maldives by organizing the content they're tagged in. They don't have to take a plane and production crew to Bora Bora to get the perfect shot—their customers already took it.
Liberty Travel can keep its marketing budget focused on where it can impact its bottom line the most. When we get the green light to travel to these destinations, guess who will be top-of-mind for their followers interested in getting away? It'll be the company who focused on building trust by showing happy customers enjoying their travels, who kept up with their community by featuring their favorite travel memories to their aspiring travelers, and who kept showing off how great their services were (even when it was impossible to buy them).
It'll be Liberty Travel.
How a Hotel is Staying Top-of-Mind
How does a hotel, with the same rooms and amenities, figure out how to create new content while their hotel has limited ability to service guests?
Marquis Los Cabos is keeping travelers in the loop with an Instagram series called IRL. In Real Life is their Instagram story series that followers their guests' day-to-day experiences while staying at the hotel.
By encouraging their guests to show how they're spending their time at Marquis Los Cabos, they're able to show off the different ways you can spend downtime at their hotel. Some guests may love a spa day while others are going to just want a quiet place to get some work done. With this series, Marquis Los Cabos is able to highlight the different value points of their hotel through the perspective of their customers.
They can avoid the production team and focus their efforts on distributing this content across their social media network and to their community. Instead of a comeback ad that promises they're doing everything to ensure a safe experience—they can have their guests do the talking for them.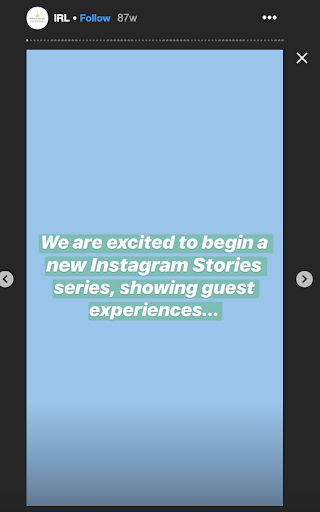 This serves a dual purpose—while showing off the amenities of Marquis Los Cabos, they're also showing off their response to COVID-19. They can show the day-to-day experiences of their guests getting a rundown of the safety procedures at the hotel, talking with staff wearing masks, sitting at restaurant tables 6-feet apart from each other, etc. This acts as a safe return ad for Marquis Los Cabos, which shows them walking the walk of all the talk their corporate team is talking.
When it comes time for travel to resume, their community has seen firsthand the response they had to COVID-19 and how they ensured the safety of their guests who were able to stay at their hotel during that time. This forges that brand-to-consumer relationship and as we said with Liberty Travel, guess who is top-of-mind when travel reopens?
The brands who stayed in touch with their customers, even when they couldn't use their planes, travel to their cities, or stay at their hotels.
How Does UGC Stand Apart From Brand-Generated Content?
When production budgets decrease and travel comes to a halt—it's not easy to get a team together for a location or product shoot. While teams are working remotely, it's pretty rare to see an entire production team traveling for a shoot these days. That's because it's not the best move for the travel industry right now.
They can spend hundreds of thousands of dollars on production…but that doesn't change the fact that people just can't travel right now. That's what makes the company-generated content tricky.
And, it's exactly why Liberty Travel and Marquis Los Cabos are leaning on user-generated content to help them get by. Instead of putting money towards fancy production, they can boost their customer's stories just by organizing incoming content (like Liberty Travels) or asking customers to share their daily experiences (like Marquis Los Cabos).
The cherry on top is that this content was already performing better than company-generated content anyway. Now that COVID-19 has made UGC one of the most accessible ways to create more content for social media, ads, websites, print, etc., we're seeing more companies use UGC in place of more expensive options.
Using UGC, companies can see a 73% increase in email click-through-rates and a 29% increase in web conversions when websites featured user-generated content. 
When Loews Hotel ran a UGC campaign using the hashtag #TravelForReal, they saw:
62% increase in social engagement

85% increase in time spent on booking pages

4x increase in revenue from brand-site bookings
The most important part of repurposing UGC is making sure you're repurposing it on the platforms your customers care about. For example, printing UGC in your magazine is a great incentive, but if your customers never read that magazine—there was no need for it.
You'll see that in Liberty Travel and Marquis Los Cabos' UGC campaigns. They're not trying to get their followers to see travel photos on their website, or get guests to read a brochure to see the day-to-day life of vacationing at their hotels. They're bringing that UGC right where their customers are, in this case, Instagram.
That's why repurposing UGC comes down to figuring out where your audience is and how you can create a UGC campaign that motivates them to create content on it. Then, you can repurpose that content on the same platform while using it in your ads and on your website to showcase just how much your customers love your product or service.
This will build the trust and community your customer avatar needs to keep you top-of-mind when the travel gates open again—all while showing off what a great experience it is to fly on your planes, visit your city, or stay at your hotel.
Need help brainstorming a UGC campaign that will get you results? Schedule a call for a no-obligation consultation here.