Social meets eCommerce in 2021. Rather than being an awareness and conversion tool, social has become a tandem requirement, with brands activating social tactics along every funnel phase. Social is no longer separate from eCommerce, social is eCommerce. 
The social platforms consumers have used to keep themselves entertained during months spent on lockdown at home are more than an entertainment tool. eCommerce retailers have emerged as the victors of 2020. People are more comfortable shopping for everything from groceries to clothing to mobile homes, all from the comfort of their own devices. As we move through 2021, social media's role in online shopping is becoming more and more clear. But first, let's reflect.
In 2020, eCommerce had its best year yet:
Black Friday was the second-largest *online* spending day in U.S. history

Chains that offered curbside, drive-thru and in-store pickup options in the U.S. increased digital sales at a 26% higher rate

Shopify reported $5.1 billion in Black Friday and Cyber Monday sales in 2020 – compared to $2.9 billion in 2019.

Alibaba made $35 billion within the first *30 minutes* of Singles Day
…and social media executives heard this loud and clear. Social media is responding to the increased adoption of online shopping by becoming more shoppable and more convenient for consumers.
Social is Becoming the Entire Funnel
We're used to the marketing funnel where top-of-funnel content drives brand awareness and engagement, middle-of-funnel content works past the know, like, and trust marketing factors, and bottom-of-funnel content closed the sale.
Social media plays a huge part in the top-of-funnel content and middle-of-funnel content—but it lacks in being able to close sales. Yes, remarketing can be effective. But, this isn't because social isn't getting consumers to make a decision to buy a product, but because products could not always be bought on social.
Previously, every Instagram page linked out to a website where consumers could buy the products they saw on the brand's feed. Now, Instagram replaced the notifications button with a Shopping tab, Reels are now shoppable, and TikTok is experimenting with live stream shopping – influencing user behavior (and new buying habits). This is just the beginning of a shoppable social experience.
The winter holidays of 2020 have given rise to a new year shopping boom.
As social continues to double down on shopping features, we're already seeing brands able to close the sale without a user ever having to leave the platform. While websites certainly aren't obsolete today—it looks like the future of eCommerce can quickly become a one-stop-shop on social media faster than we expect.

What Content is Converting Best on Social Media
Marketers have to absolutely nail their content as social content becomes one of the most important marketing channels for brands.
What content converts best on social media?
In our 2021 State of User-Generated Content Report, we surveyed leading brands to see how they're looking at their social content.
We found that 93% of marketers agree that consumers trust content created by people more than content created by brands. This makes user-generated content (UGC) key to creating balanced content that your audience will resonate with. Here's how UGC is impacting the marketing funnel: 
More than 86% of companies today use user-generated content as part of their marketing strategy

34% of TINT users and 45% of marketers agree that user-generated content helps improve social media campaigns

Ads based on user-generated content receive 4 times higher click-through rates and a 50% drop in cost-per-click compared to average ads

Almost half of customers (48%) claim that user-generated content is a great method for them to discover new products
Brands turn to UGC to collect feedback, share social proof, and build trust throughout the journey. Expect to see this content more frequently in the near future. Marketing activations will look like curbside pickup site ads, website galleries with real-time social media content, digital out-of-home (DOOH) ads, and promoted content featuring customer reviews and testimonials.
Examples of User-Generated Content
Amazon
Amazon has become a user-generated content machine. Its review section continues to grow more and more robust. Companies use professional photos in tandem with UGC. The professional images are part of the hook. The customer-created content is the social proof that drives conversion. 
For example, this lift-top coffee table has professional photos in its item description: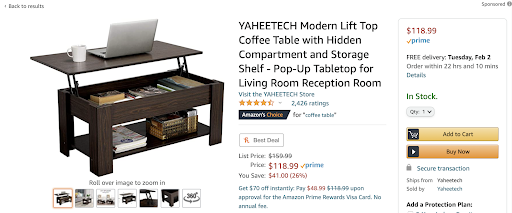 But also features UGC customer reviews and images:

With 70% of consumers trusting online peer reviews and recommendations more than professional content and copy—these reviews are crucial as bottom-of-funnel content that drives conversions.
Levels
Levels, a continuous glucose monitor, uses UGC on their Instagram feed to showcase their customers and why they care about their glucose levels. This is exactly how brands can leverage their customers' voices to help them showcase their products and repurpose customer content to save time and money on content production.
View this post on Instagram
People prefer to buy from people that look, behave, and act like them. By using UGC in their marketing, Levels creates a sense of unity by delivering content that customers, and prospects, will be sympathetic to. 
New England Patriots
The New England Patriots repurpose UGC by retweeting fans. In this post, they retweet a fan's photo of their Gilmore jersey and garner 2,700 likes (likes range from 100-1,000 likes on average). In alignment with our past reports, UGC continues to get more engagement than company-created content. 
Dream come true.#ProBowl | @jakebailey___ pic.twitter.com/uJGqDzFtT3

— New England Patriots (@Patriots) January 27, 2021
What happens when a Twitter user can click on these jerseys and order their own, without ever leaving Twitter?
That's the future of social commerce — and why it's so important to understand where the trend is heading. As social continues to disrupt the marketing funnel and becomes so integrated that it eventually becomes the entire funnel, brands need to understand how to create highly engaging and converting content.
In Conclusion
In our 2021 State of User-Generated Content Report, we found that social is undeniably taking over the marketing funnel as we know it. We also found out what metric marketers care about most in 2021, how brands are going omnichannel without massive increases in content production, the newest strategy behind influencer marketing, and more. To read the 5 themes we found from surveying leading brands, download the 2021 State of User-Generated Content Report here.
Don't have enough user-generated content coming your social team's way? Schedule a call with a TINT team member to learn how to incentivize customers to create more UGC, get the rights to redistribute it, and automate collecting images and videos that feature your products.